Now that the chapter's done, I had a chance to review my Myshuno prompts. I've got my card ready.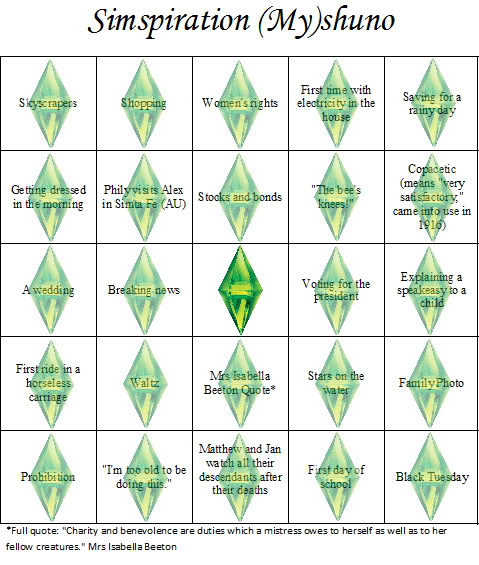 I had a ton of prompts (thanks to everyone who made a suggestion), so I had to cut my list in half. I went through them, and eliminated any that didn't bring an idea to my head immediately. After that, I looked at the ones left and picked the ones I thought would be the most fun to write, or the ones that might push me a little bit. Then they got randomized via the list generator at Random.org, and voila! Myshuno card.
I'm going to go for blackout. I think I can do it, as I already have ideas for most of what's on the list. But we'll see. I'm very excited to start writing.
Woo-hoo! Myshuno achieved with prompts 3, 5, 6, 7, and 9 on October 9!
ETA: I'll also use this post to keep track of all my completed prompt, and update my card as I write.
Prompt 1:
Matthew and Jan watch all their descendants after their deaths
Prompt 2:
First day of school
Prompt 3:
Skyscrapers
Prompt 4:
Family Photo
Prompt 5:
Getting dressed in the morning
Prompt 6:
A wedding
Prompt 7:
First ride in a horseless carrige
Prompt 8:
Voting for president
Prompt 9:
Prohibition
Prompt 10:
"I'm too old to be doing this."
Prompt 11:
Stocks and bonds
Prompt 12:
Shopping
Prompt 13:
Phily visits Alex in Simta Fe (AU)
Prompt 14:
Breaking news
Prompt 15:
Mrs. Isabella Beeton Quote
Prompt 16:
Copacetic
Prompt 17:
Saving for a rainy day
Prompt 18:
Stars on the water
Prompt 19:
Explaining a speakeasy to a child
Prompt 20:
Black Tuesday
Prompt 21:
Waltz
Prompt 22:
Women's Rights
Prompt 23:
The Bee's Knees
Prompt 24:
First time with electricity in the house