Greetings! I have some more pictures from you!



Okay, first, an elder couple portrait: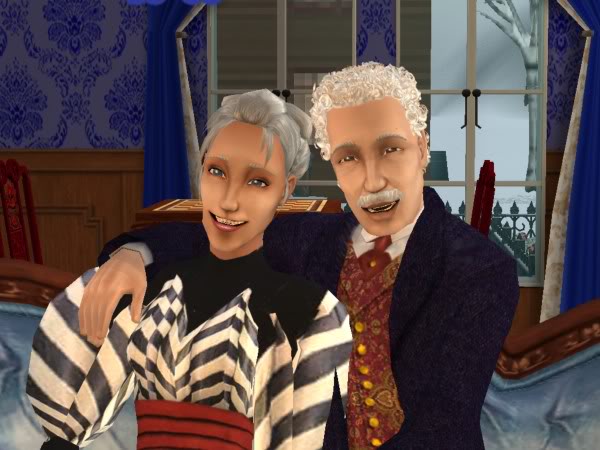 Abraham Thopmson and Gretchin Chin. Quite a fine looking pair.

Okay, onto Simta Fe, where we find Peter Langerak and Lenora Dancer have become more than just friends: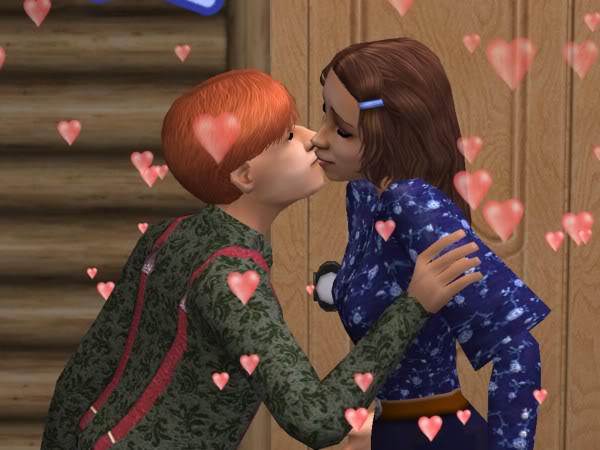 This was planned. They're exactly the same age, and complement each other well. You'll be hearing from them in the next chapter. Of course, living with your intended does have its disadvantages.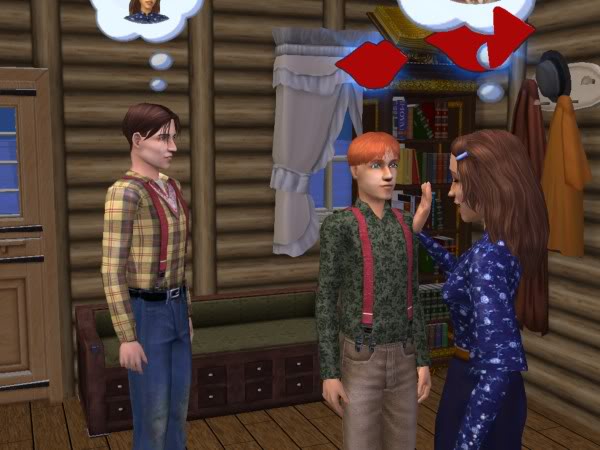 "Hi Dad. I just got my first kiss!"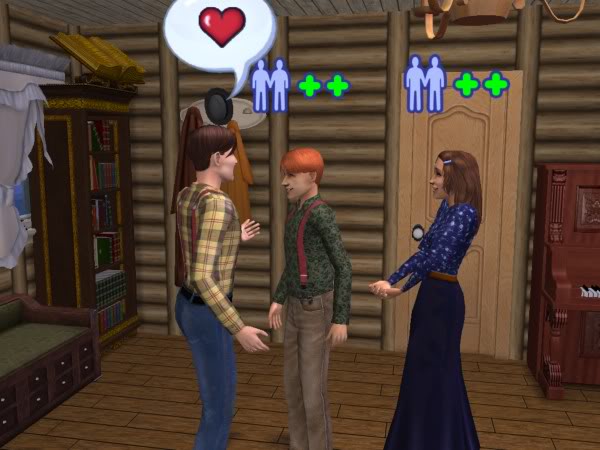 "That's great. Congratulations on getting your first kiss from my daughter."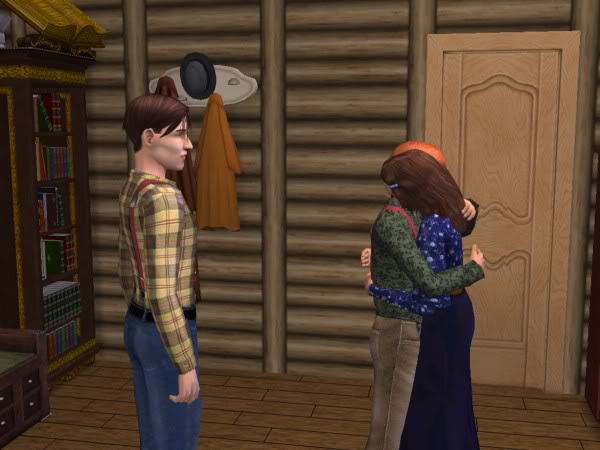 Isaac really can't complain about Lenora and Peter, considering that she's illegitimate. She's lucky that Peter loves her so much.

Only two other shots before we move into stuff with the main family. I love Victor and Jane.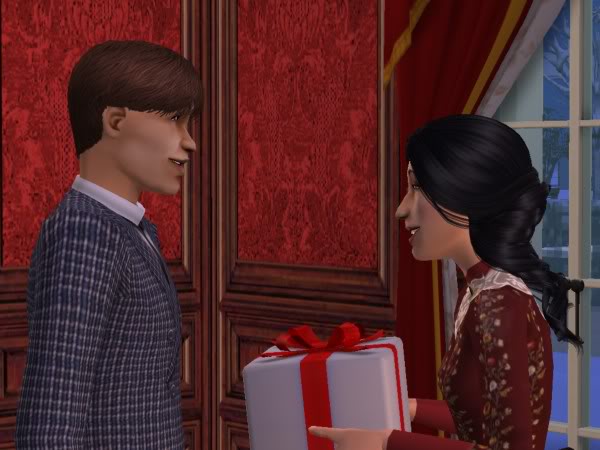 She's a real sweetheart, and I'm glad that she and Victor have 2 botls (it would be 3, but their nice points are too far out of whack.) I'm glad that I got them "engaged" in this chapter. If I've calculated right, they won't get married until the first day of the fall rotation. I also took an engagement portrait of them.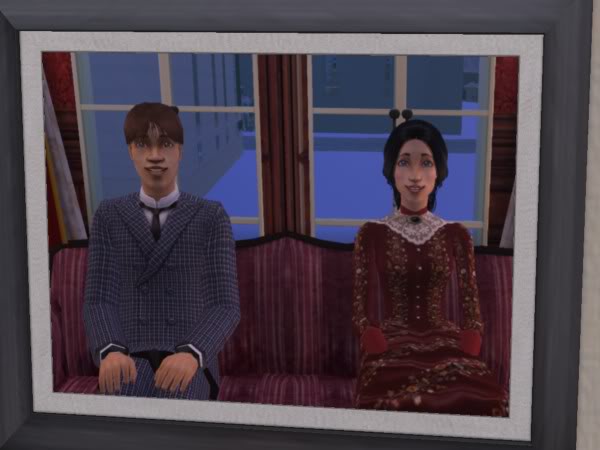 I love the antique camera!

Okay, since most of the chapter was about the main family, that's where most of the photos are from. First, Lizzie and Jason.


I loved this shot, but couldn't use it because you can see the engagement ring in the shot. Yes, they got engaged before I shot this scene. My bad.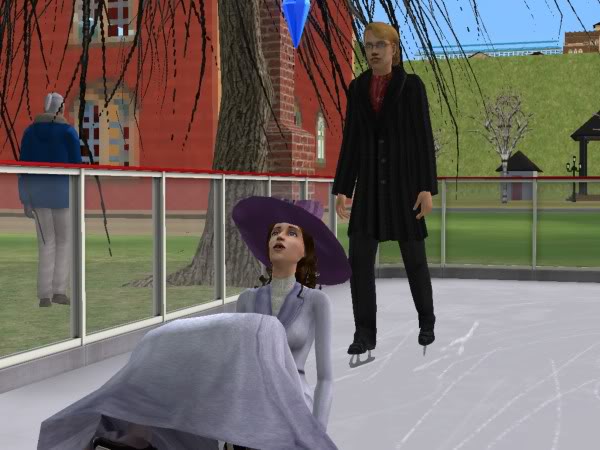 Lizzie really was a horrible skater, which I don't understand because she had 8 body points at the time (in contrast, Jason only had about 3, and he didn't fall once).

Creapy stalkerish sims are creapy: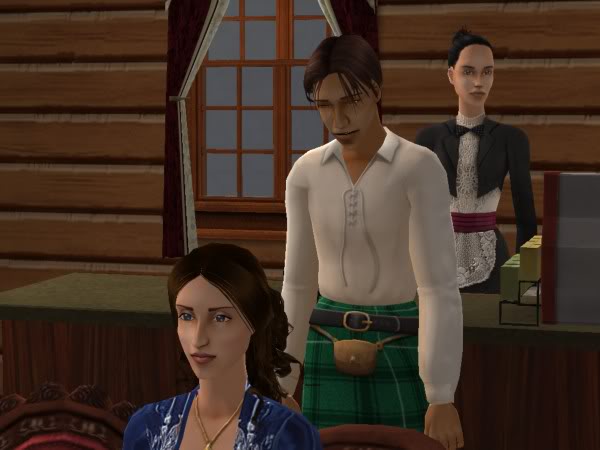 <Shudder>.
Lizzie, being a fortune sim, had the Want to Marry a Rich Sim. Of course, I had to oblige.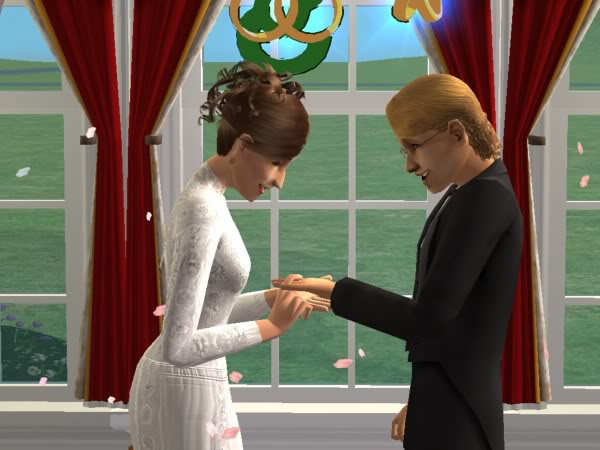 I can't wait for you to meet their son in the next chapter. Thaddeus is adorable.

A scary moment from the farmhouse: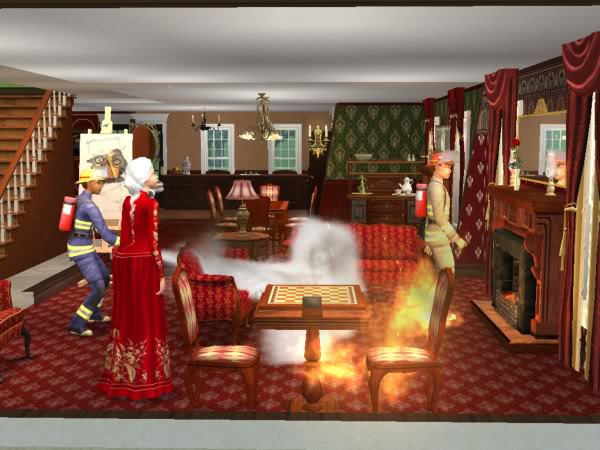 The rug caught fire, and then Matthew caught fire, and whereever he walked and stood for any length of time caught fire. I FINALLY managed to get everything extinguished, but I was panicked for a moment. No wonder I never light the fires unless someone rolls a want for it.

I've had Jefferson's plot line in my head for ages. I wanted to show how Matthew and Jan's upbringing had given him a sense of duty that would lead him to do something that he wouldn't have done otherwise. Melanie was just an innocent bystander that I picked from the downtownie pool.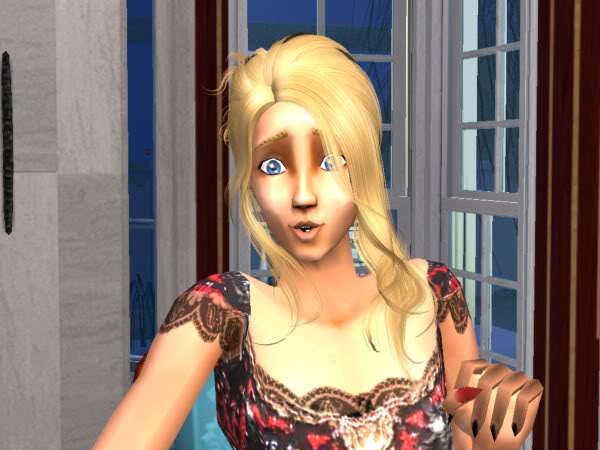 "Oh, pretty!"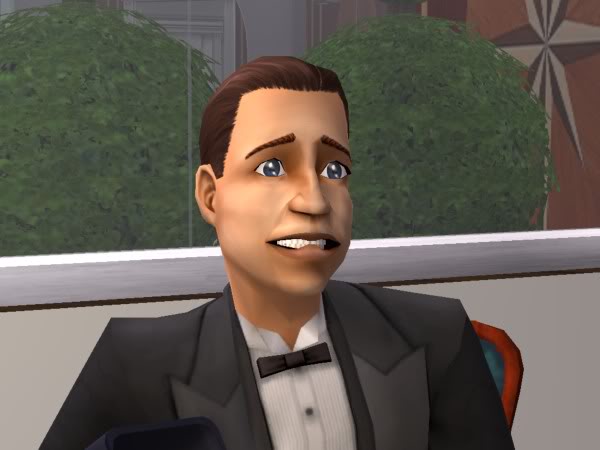 "Oh, crap! What did I do?"

Moving forward to the wedding day: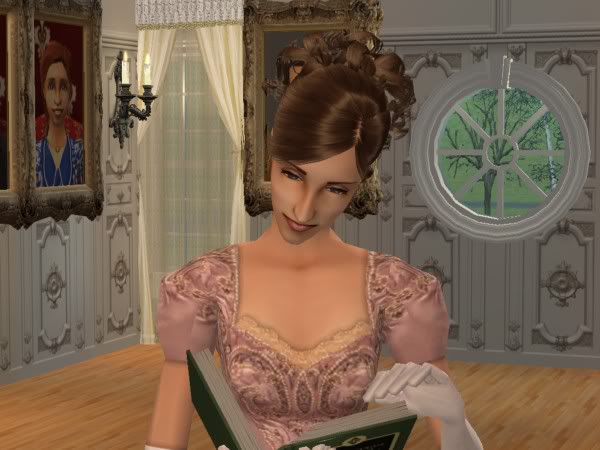 I loved this photo of Lizzie. She's been rolling the Want to Read Novels, so her Film & Literature hobby enthusiasm is way up. Hense, the reading while walking.

Melanie really is a nice sim. I felt bad that she got caught in the middle of my plot bunny madness.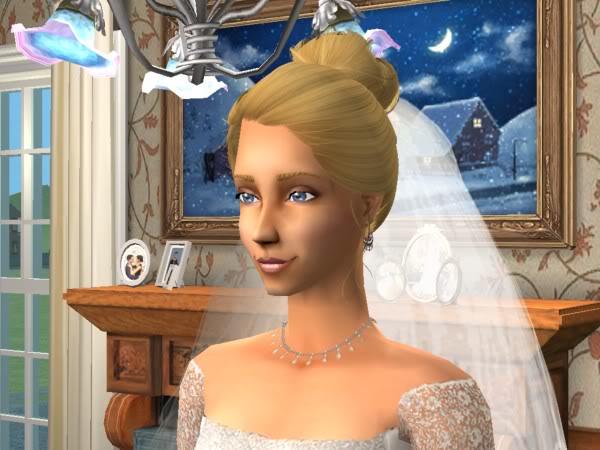 A very pretty sim.
Of course, as she's not a stupid girl by any means, she had her doubts. Leave it to Jan to comfort her.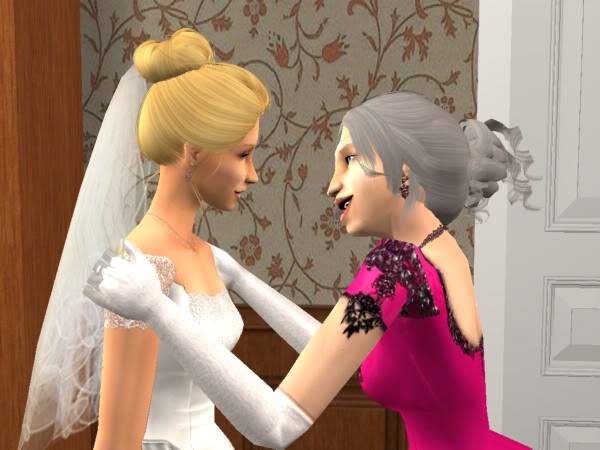 .
The "Cheer Up" action worked very well for that scene.

And now, some picspam from the wedding that wasn't.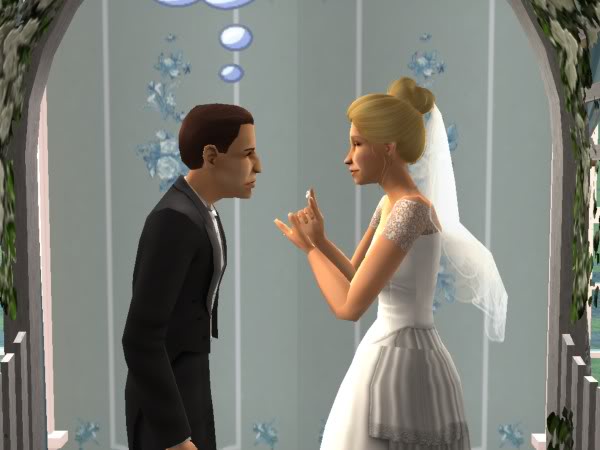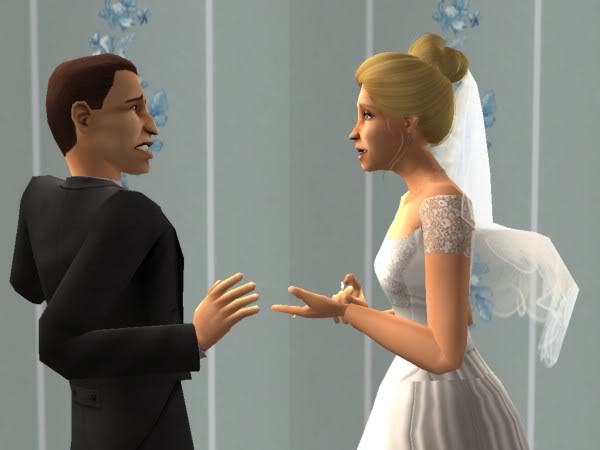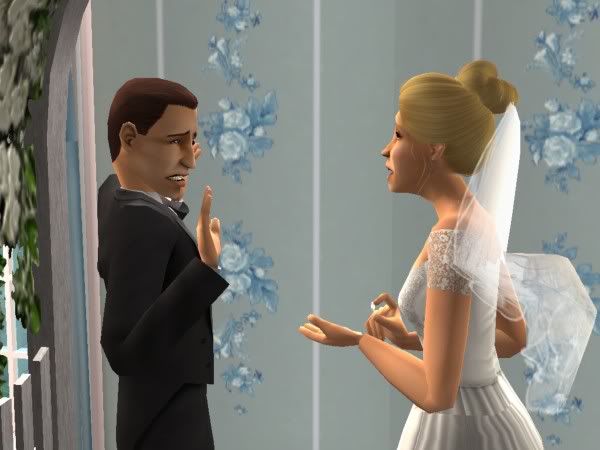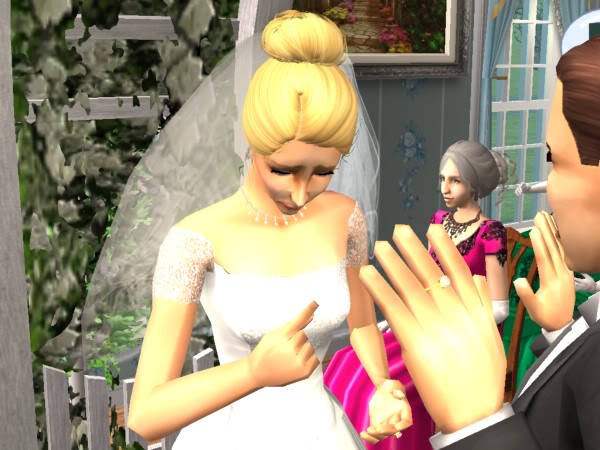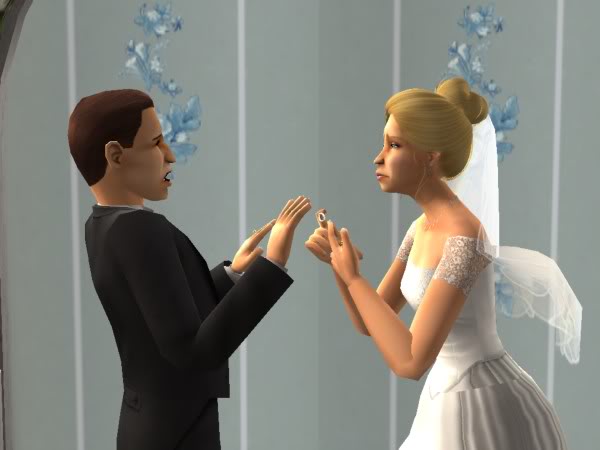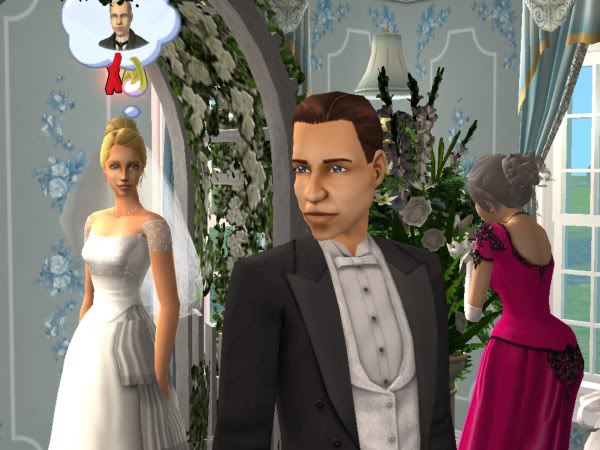 Jan really was devistated by the whole scene. He he he. Matthew had his own reaction.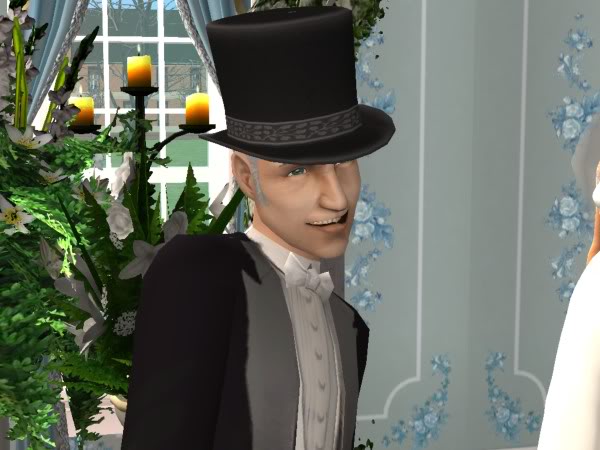 I can't remember who he was heart-farting, but it was so not the moment for that.

I actually went into a dummy hood and shot the following scene. I have a hack that allows sims to break up no matter what their relationship score. Very handy for moments like this.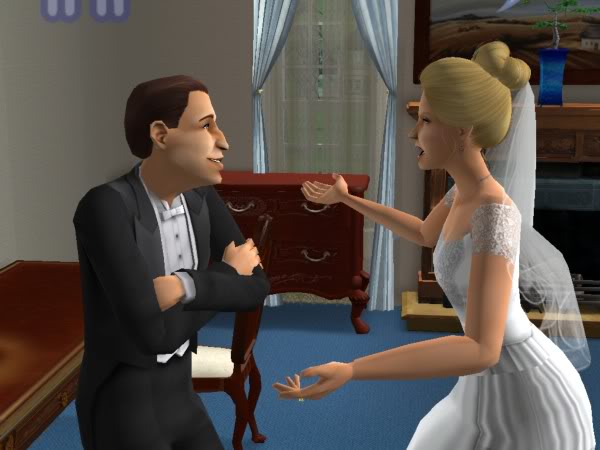 This picture would have been much better if Jefferson's face hadn't glitched.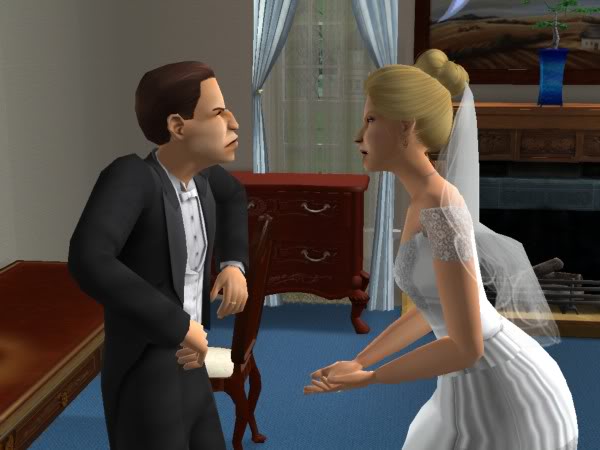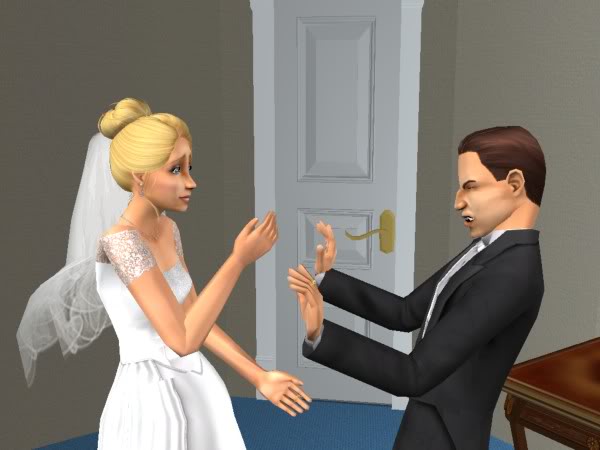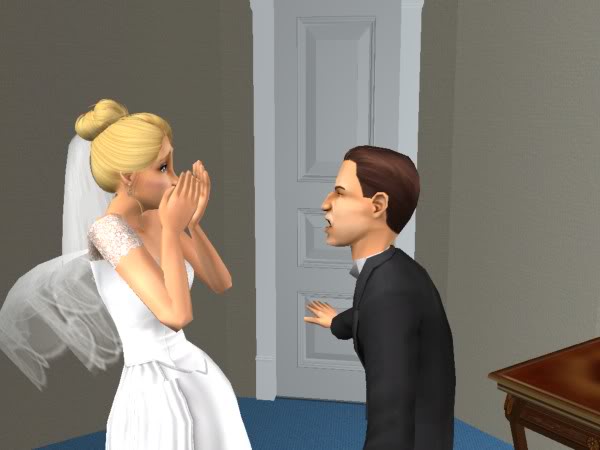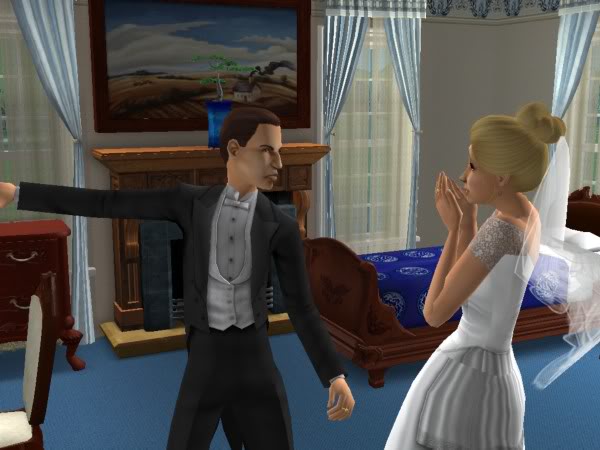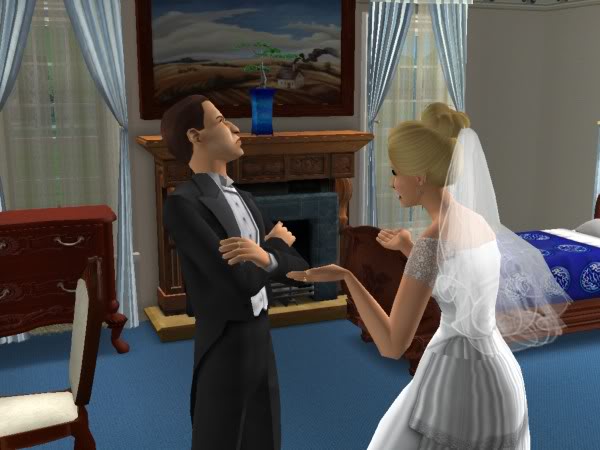 I really did feel horrible for what I did to Melanie. Which is why, I let her find happiness so quickly.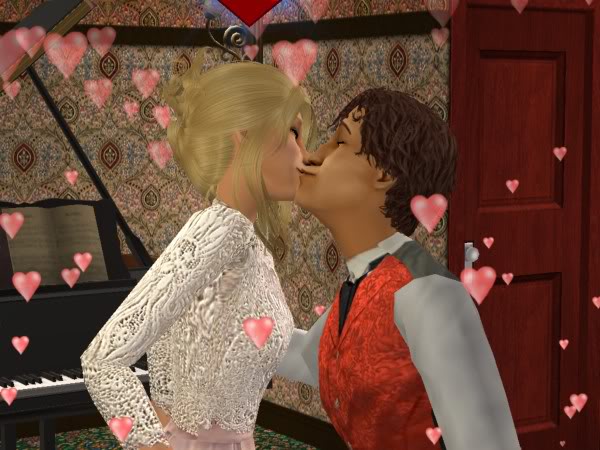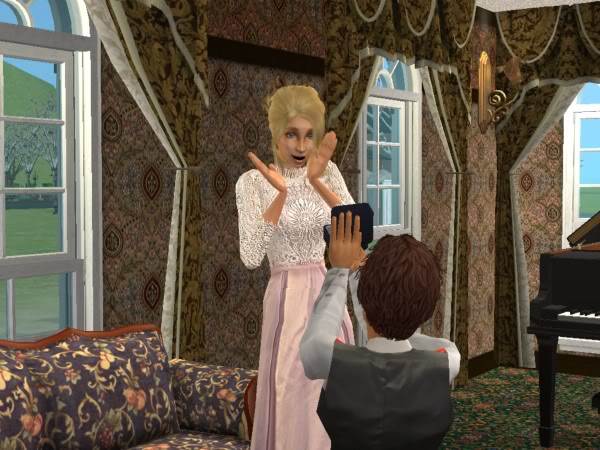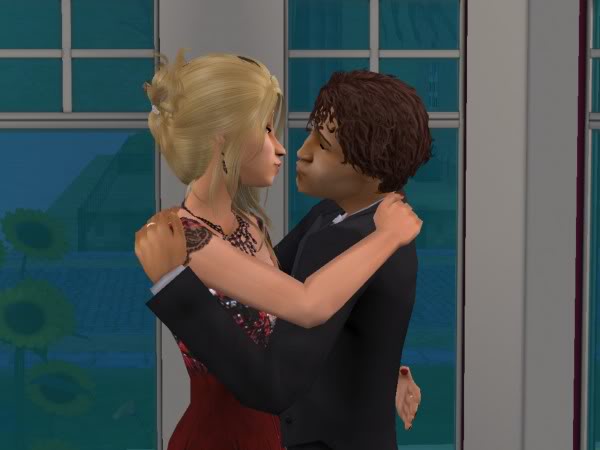 She and George are a cute pair. Since they were already friends, the rest was easy.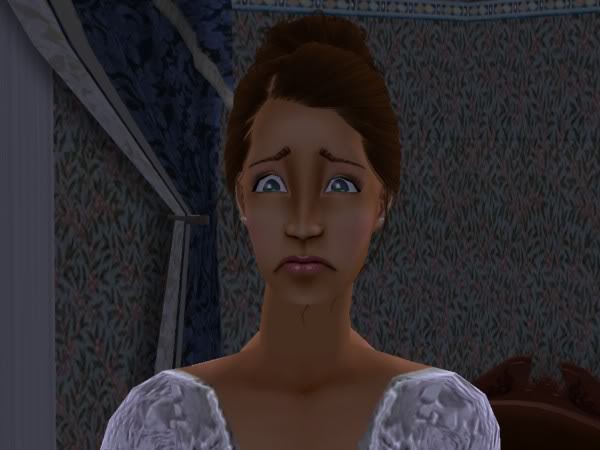 Marhsa Marsha Marsha! I felt horrilbe about how I treated her as well. Shy sims are so silly sometimes.

Of course, Jefferson came to his senses in the end.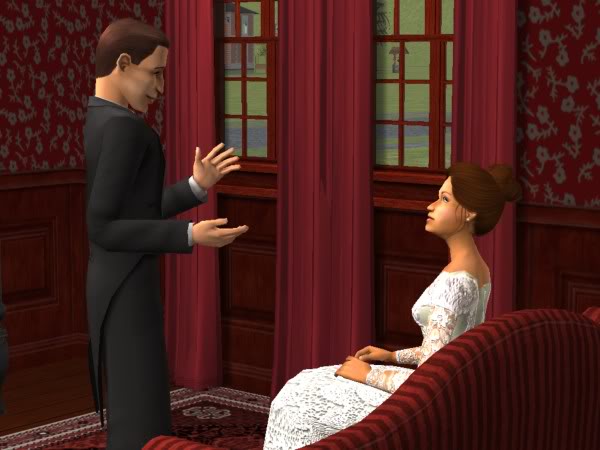 "Yeah, I didn't marry her. Silly me."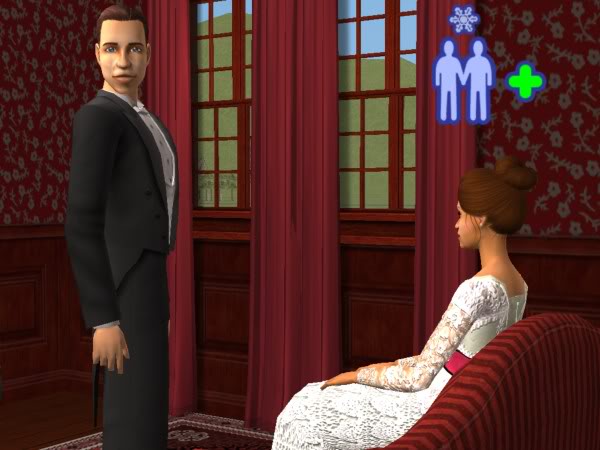 This is the look when I told Jefferson to flirt with Marsha.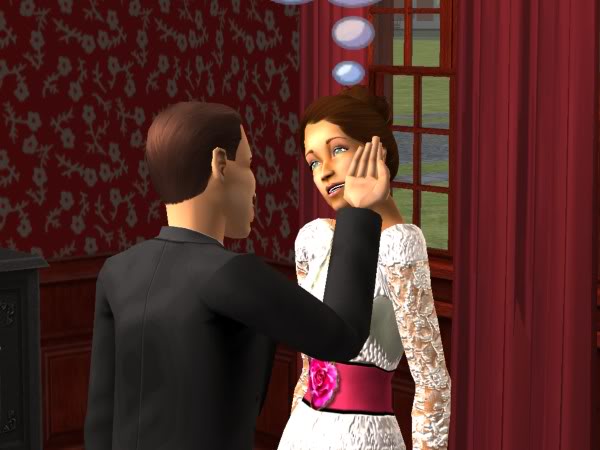 Aw.


At last! They're in love.

I never realized what a pretty sim Marsha is.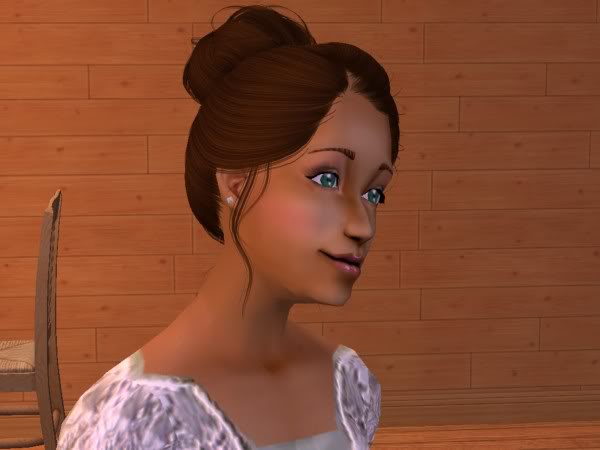 Very striking. I'm hoping I can get the green eyes back in the family.

Because I like Marsha, I let her have a real First Kiss.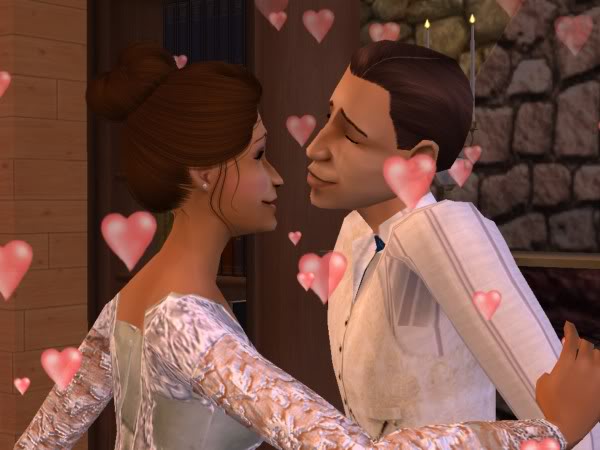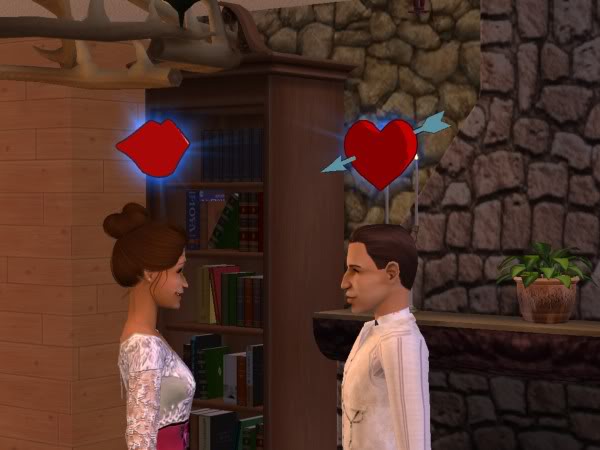 And because I shot the scene where Jefferson asks Marsha to elope in a dummy hood as well, this is where they really fell in love.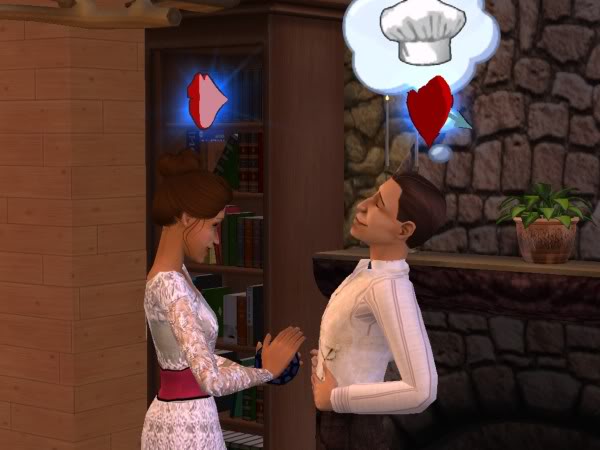 And Jefferson ruins the moment by thinking about dinner.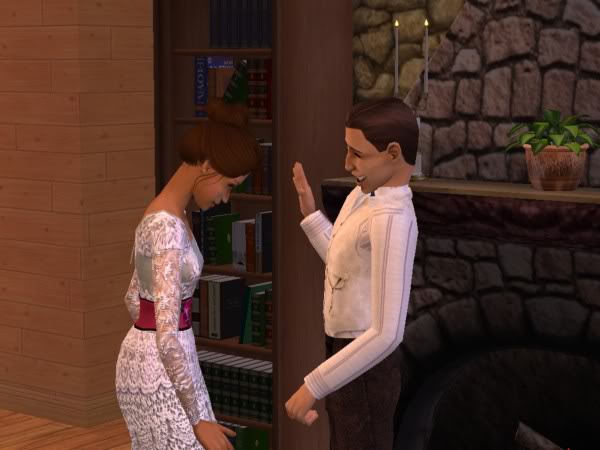 Jefferson: "Hi!!!"
Marsha: "Check that out."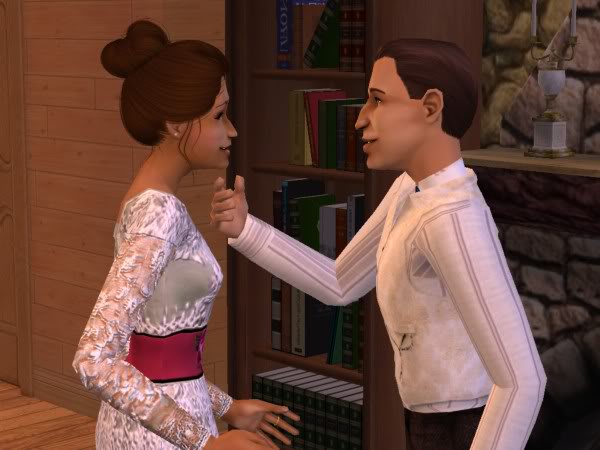 So sweet!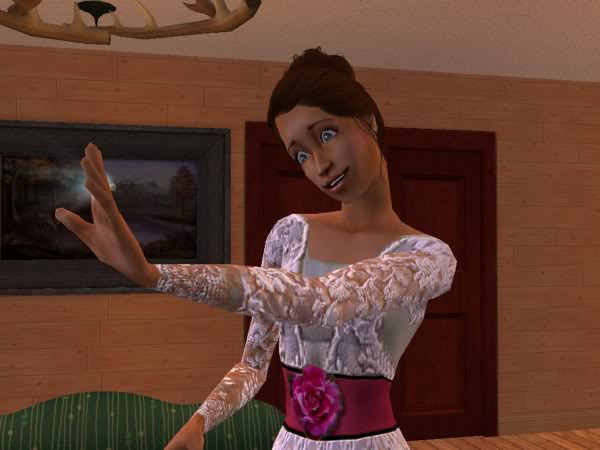 "Oooo, SHINEY!"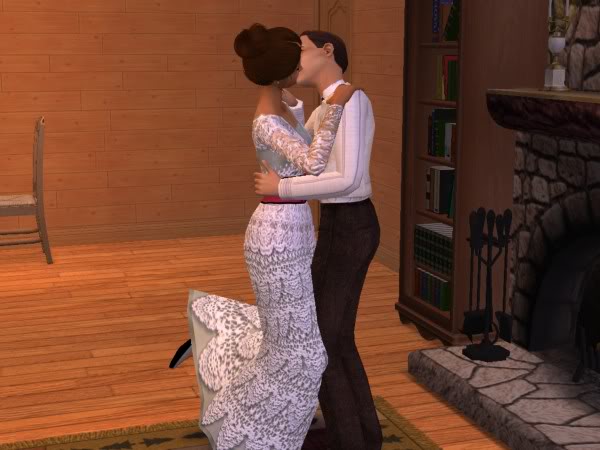 I love this interation.

And then they got married.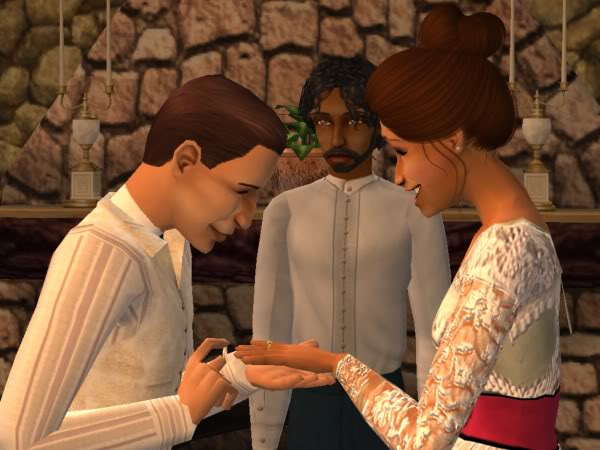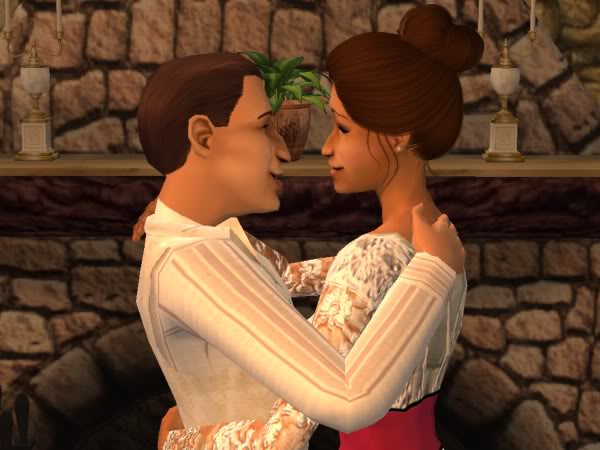 I am really, REALLY glad that Lizzie brought Marsha home from school one day. I love these two as a couple.

Proof that Matthew does have just one nice point: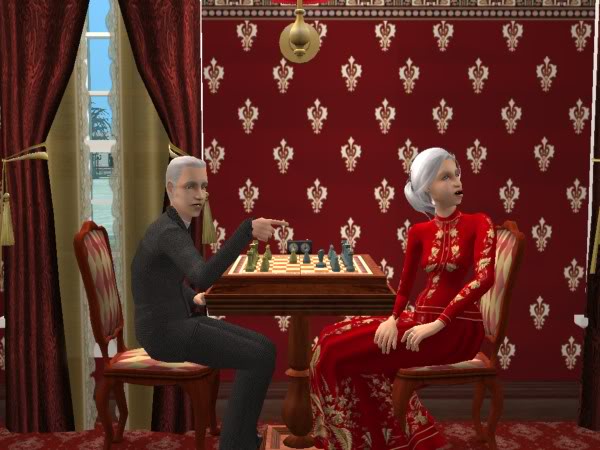 He ALWAYS cheats at chess.

And Jefferson and Marsha came home.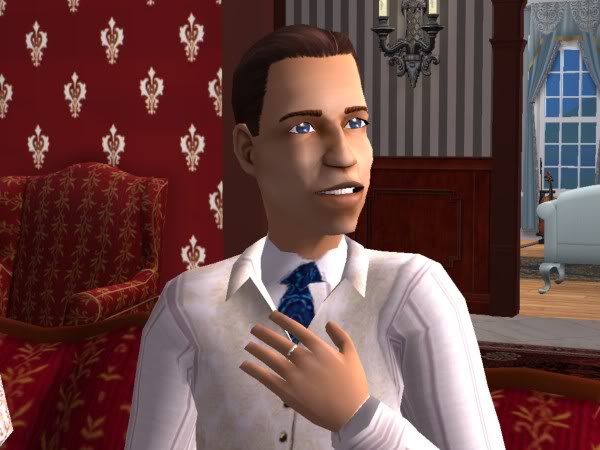 "Mom, Dad, I got married!"


"What?"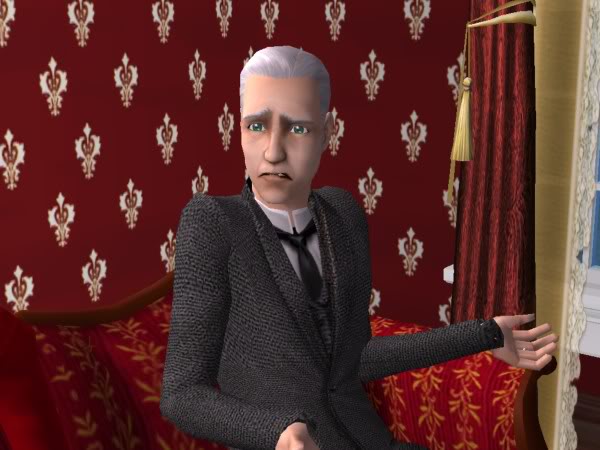 "What?"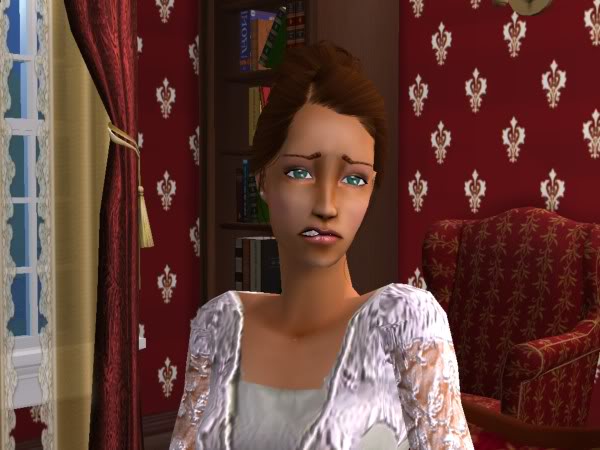 "What?"
Uh, Marsha, you're the one he married. Sorry. It was too great a face not to share.

Marhsa and Jan really do not care for each other.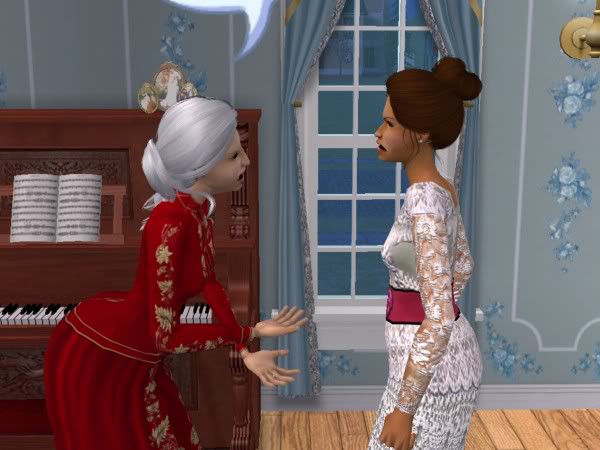 I wanted to use the picture, but couldn't because Marsha's too pregnant for that point in the story.

I lucked out, and she had a pretty easy first two days. No morning sickness, no crashing motives. In fact, the only thing other than the bump was this: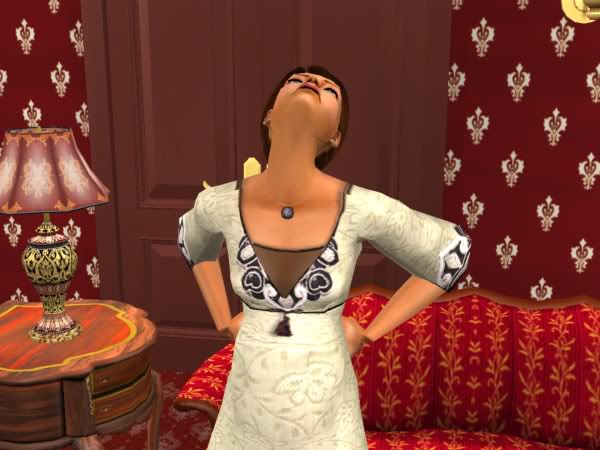 "My back hurts!"
Of course, Jefferson did an autonomous back rub not long after that. Forgot to get pics. But still, very sweet.

Marsha really does think of Jefferson a lot.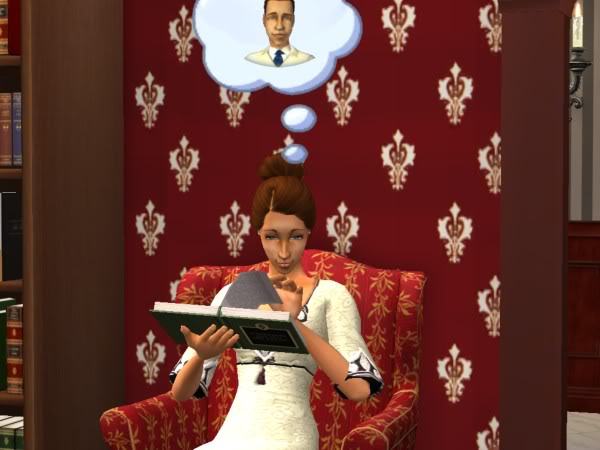 He's the reason that you're studying parenting in the first place Marsha.

Love these pics.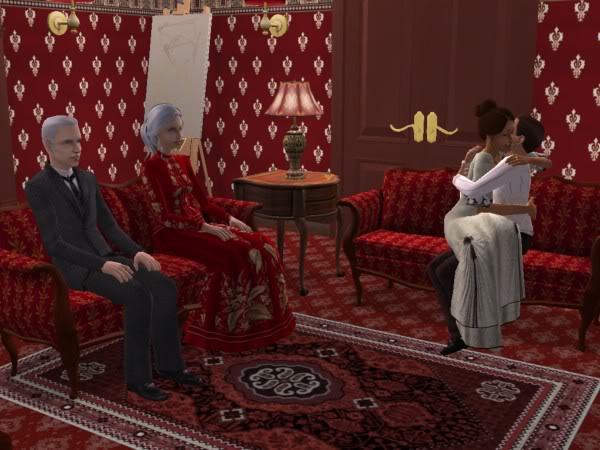 Cute couple, and Matthew and Jan just sitting there all stiff and uncomfortable. He he.

And I'll leave you with this: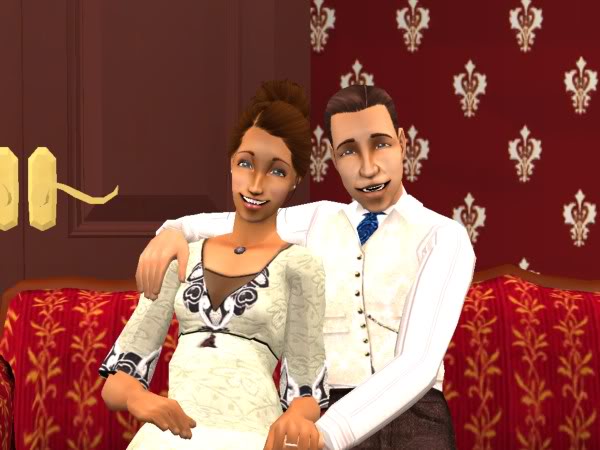 I can't wait to see what they have! I'll post a spoiler pic as soon as I know. Until then, happy Simming!


Current Location:

Home

Current Mood:

tired

Current Music:

Family Guy on TBS