Let's do this in birth order, since that makes the most sense. First up, we have Thaddeus Seiff, son of Lizzie and Jason. You saw him as a baby already, and now you can see him as a toddler.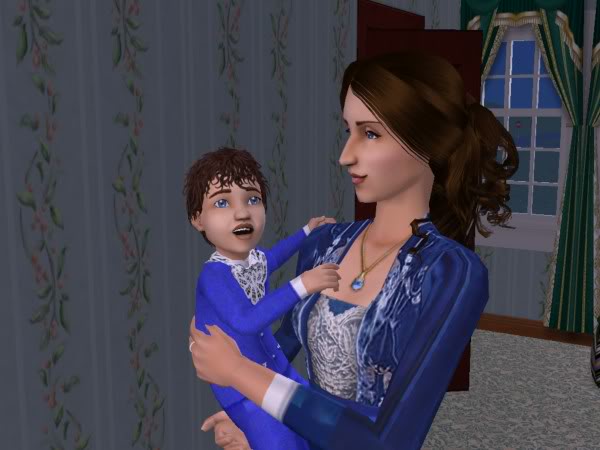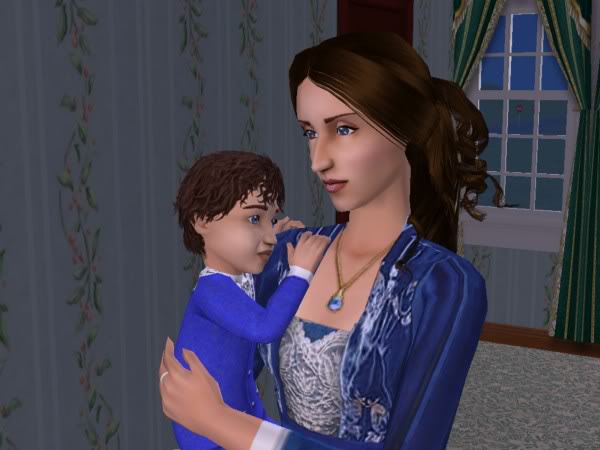 Ah, yes. Jan's nose continues to dominate. Sigh. Taddy, as I have dubbed him, is a Sagittarius with stats 3/4/10/10/7. His predestined hobby is Nature, which I find very appropriate with Lizzie's love of gardening as well.
And, because I love toddlers and doggies, some cuteness for you: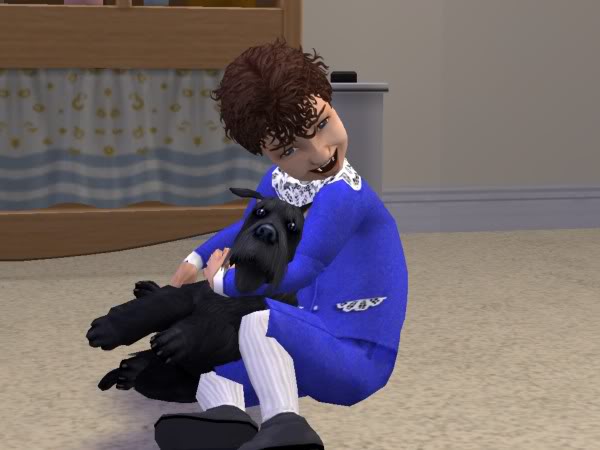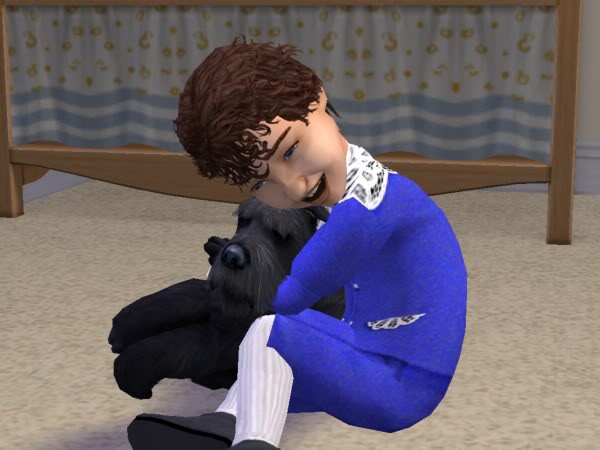 Jacques and Taddy are already on the way to being fast friends.
The next babies (yes, BABIES. Thanks, Lila, for throwing me natural twins) are the son and daughter of Lila and Samuel Gavigan. These are two that I forgot to photograph, so I'll just share their stats with you.
Harris Gavigan
Scorpio - 10/9/10/3/1
Hobby - Sports
He's going to be a handful - just you wait.
Muriel Gavigan
Aries - 5/8/6/3/3
Hobby - Music & Dance
From there, Sally and Juan Thompson had a little girl. Again, no photo because I fail.
Ivy Thompson
Scorpio - 7/6/9/6/3
Hobby - Sports
After that, Myrtle and Alonzo Phoenix had a son.
Pierce Phoenix
Pisces - 7/9/6/3/10
Hobby - Music & Dance
Okay, let's get back to some pictures. In the Robert Alcott household, George and Melanie (nee Miller) had a baby boy.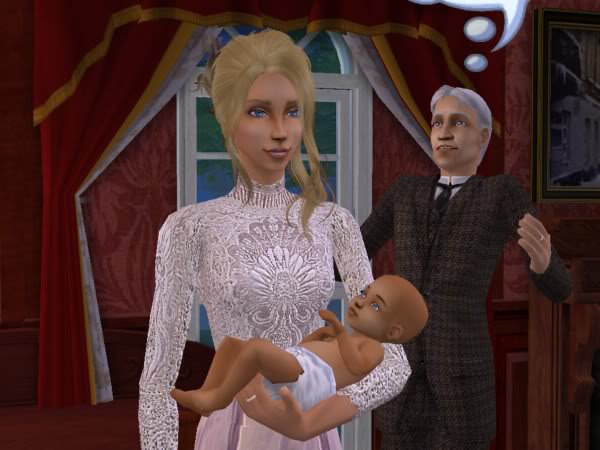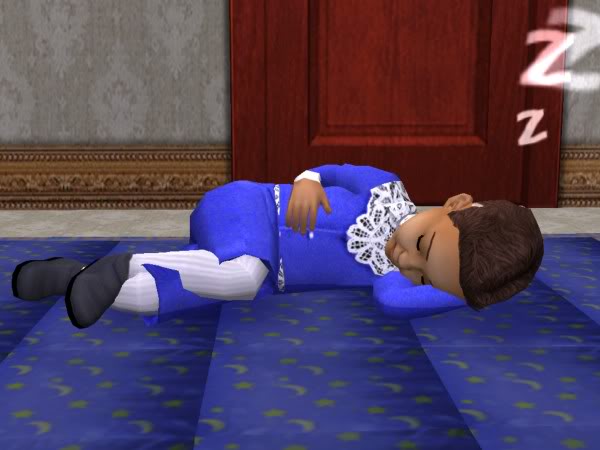 Sterling Alcott
Aries - 7/9/5/3/5
Hobby - Music & Dance
He's a little cutie, and I think he'll factor into future story lines.
Next up is the Pasang household, where Kea and Amos had a son.
Orson Pasang
Scorpio - 9/4/9/10/1
Hobby - Games
Ericka and Eldon Bear had a daughter.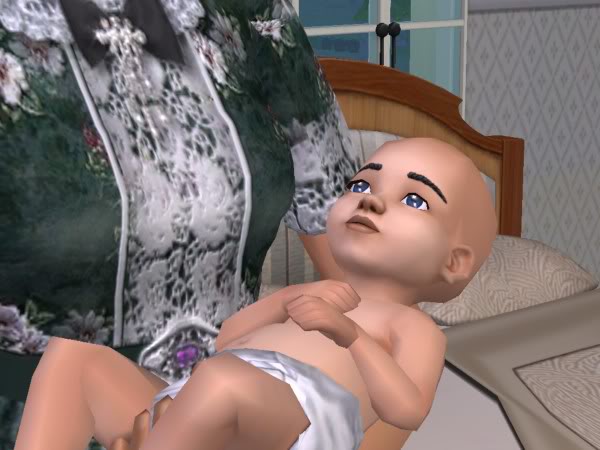 This is Cordelia Bear. Apparently, Ericka dyes her hair, because black hair is nowhere in this line. Sigh.
She is a toddler now, but I don't seem to have a picture of her as such.
Cordelia Bear
Aries - 7/9/9/4/1
Hobby - Sports
Not to be outdone, Eldon's twin sister Esther and her husband Jason Menon had a baby girl as well.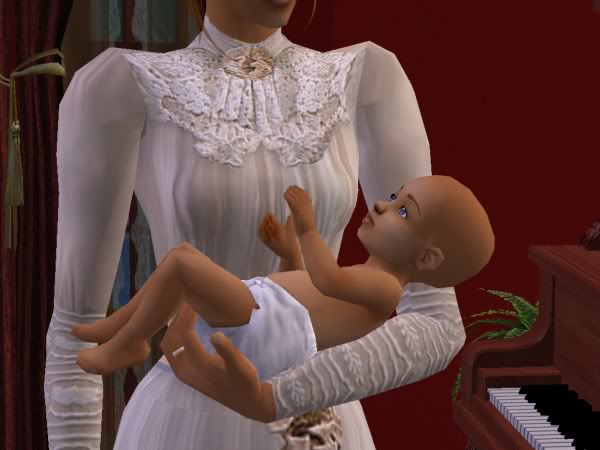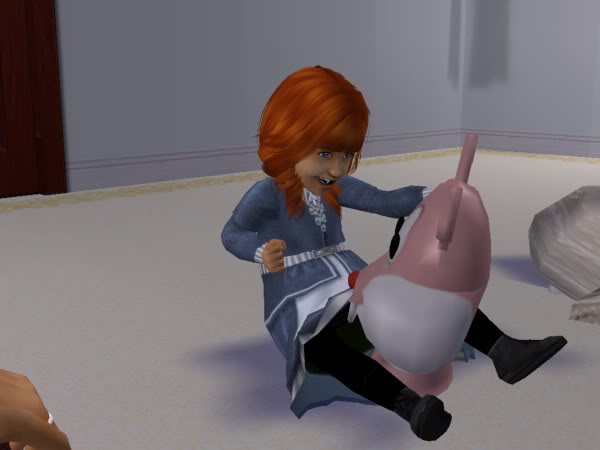 Calla Menon
Aries - 6/9/8/3/3
Hobby - Fitness
Apparenlty Jason dyes his hair as well, because I was totally expecting a black-haired baby from this pair.
I have updated the family tree, so you can see the liniage of these kiddlets, if you are so inclined. It's getting HUGE at this point, and I'm starting to evaluate which lines I'm going to let go in the near future.
That's all of generation 6 that has arrived thus far. Still to spawn are Jefferson and Marsha Bradford, Maurice and La Shawn Alcott, Victor Hutchins and Jane Thayer (they won't get married until the next rotation), Peter Langerak and Lenora Dancer (ditto), Josephine Turner and her intended Dickson Hollmo, and Garrett Pitts, if I decided to get him married. He's a pleasure sim with a LTW for 50 1st dates, so I may play him as a cad and end that line with him. Not sure yet.
I hope you enjoyed, and I'll probably post something here later tonight or tomorrow when I finish playing the Bradford house and know what Marsha and Jefferson have.
Since I decided to have the generation 5-ers hold off on having babies until Jefferson had at least gotten married, to save on the sprawl that was starting to occur, Simsfield/Portsimouth has had a baby boom. All the houses except the Bradfords have been played through (so no, I don't know if Marsha and Jefferson have a boy or girl yet). I might get to that later tonight, depending on how things go, but that's not why I'm posting. No, I thought I'd introduce you to some of the NINE babies that make up generation six. Be warned, for some of them you will only get names and stats - I apparently fail at getting pictures in the spare households.
Current Location:

Home

Current Mood:

sore

Current Music:

Pats game