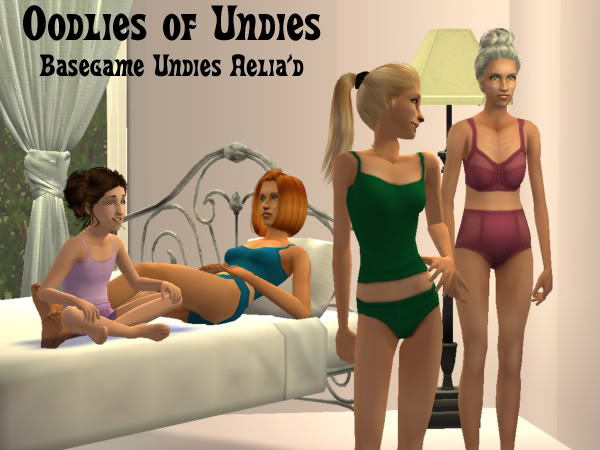 (Colors shown L-R are Lilac (Retro), Saltwater (Jewel), Emerald (Autumn) and Rose (Autumn).
This is something that's been on my to-do list for a while, but while my game was historic, it wasn't high on the priority list. But now that I'm up to the 1930s, it was time to tackle it. The base game female underwear is nice, but there aren't a lot of colors (and I don't know about you, but I like a little color in my unmentionables). So I recolored the tank-and-bottoms set for the adults and teens, and the only undies options for the children and elders using Aelia's color actions. Specifically, the Autumn, Jewel, and Retro actions.
What do you get? Well, there are 66 (!) recolors for each age group (for a grand total of 264 color options), clearly labeled and named with their color so you can delete any you don't want. ||
Autum Swatch
||
Jewel Swatch
||
Retro Swatch
||
Hopefully, these are something that you can use in your game too. Again, they're base game compatable.
Download Undies (One Package, Organized by Ages)
Current Location:

Computer

Current Mood:

anxious

Current Music:

No Reservations