Sim Secrets
(specifically Secret Number 63), I took the "gangster" photos I took for my last chapter and turned them into "Wanted" posters (and honestly, I don't know why I didn't think of this idea sooner).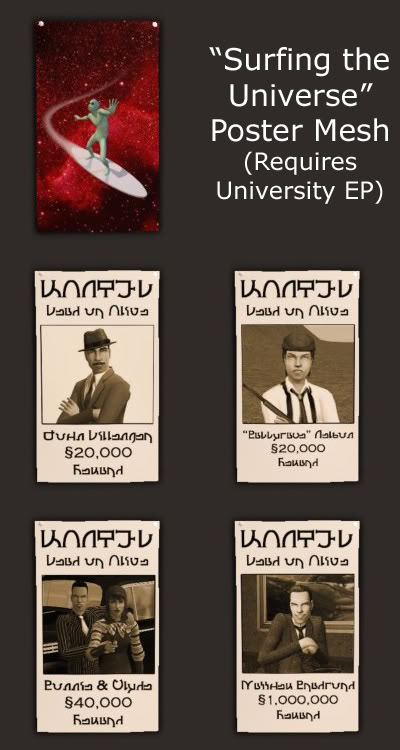 These posters use the "Surfing the Universe" poster mesh that came with the University EP, so University is required for them to work. I did try to find a base game mesh, but the proportions weren't right. You get four "Wanted" posters with the download, all in Simlish. They say "Wanted, Dead or Alive," and at the bottom is the name and reward amount. Left to right, top to bottom they are John Dillinger, "Babyface" Nelson, Bonnie & Clyde, and Matthew Bradford. No, Matthew wasn't part of my gangster photoshoot, but we all know that he deserves it and I couldn't help myself.
Recolors are clearly named so you can delete those you don't want. They have also been Compressorized.
Questions? Let me know. I hope you like them, and that they are useful to you in your game.
Download Simlish Wanted Posters
After seeing this week's
Current Location:

Computer

Current Mood:

cold