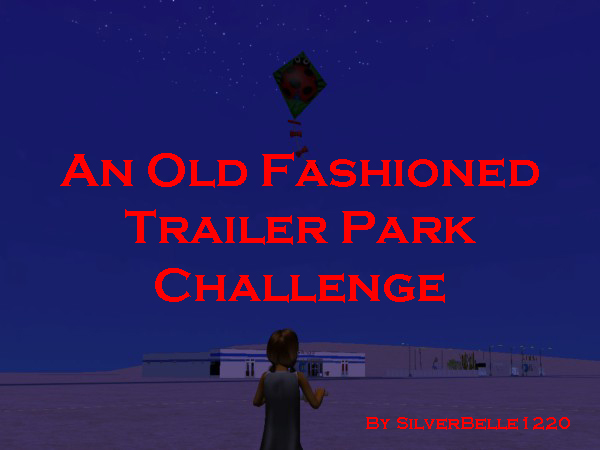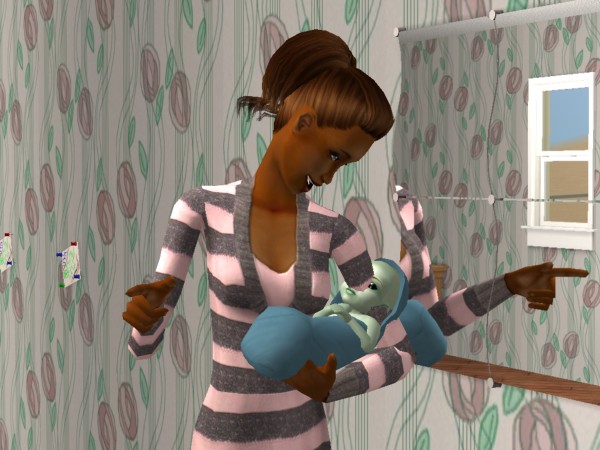 Last time, the first born of heir Lepus and his wife Linda had just made an appearance. Linda would like you to know she has 10 outgoing points, and will finger-gun whenever she feels like it.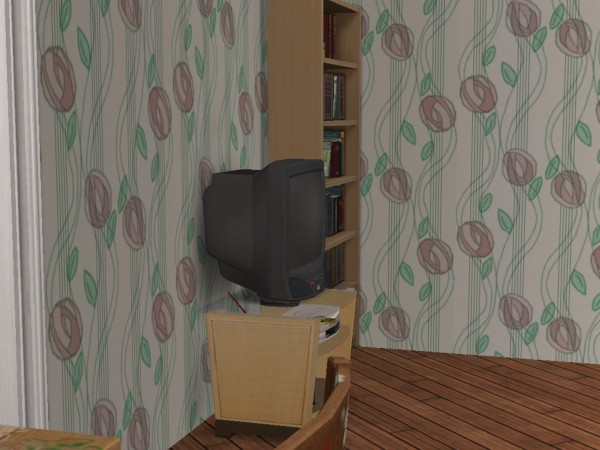 This is the third TV that the family's broken. I'm waiting until I can buy a slightly more expensive one before I replace it For now, it's gone to the appliance graveyard that's accumulating in the yard.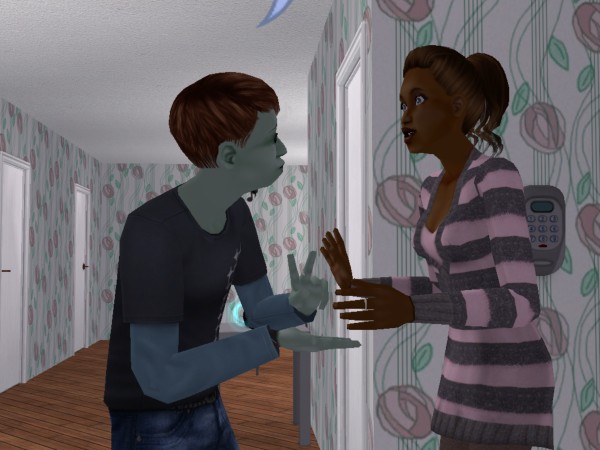 Lepus has just 1 nice point, so he tends to pick on everyone, including his wife.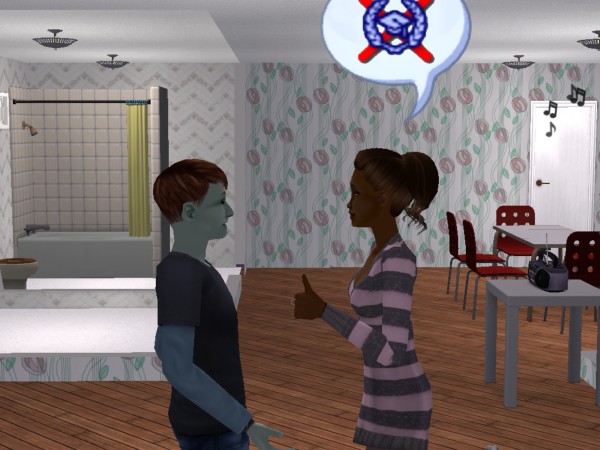 Though she gives as good as she gets, congratulating him for not going to college.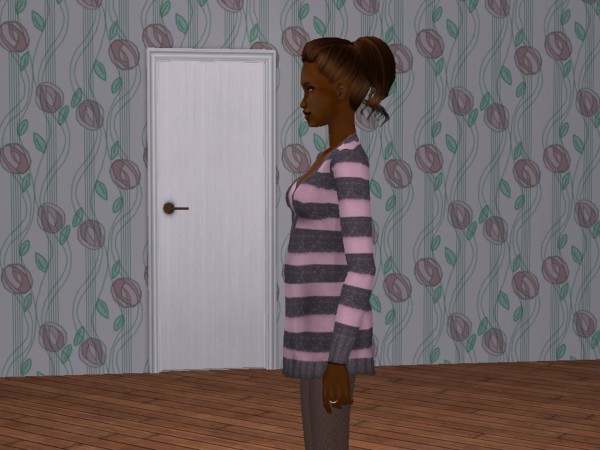 Following in her mother-in-law's tradition, Linda get pregnant every time her ACR timer goes off.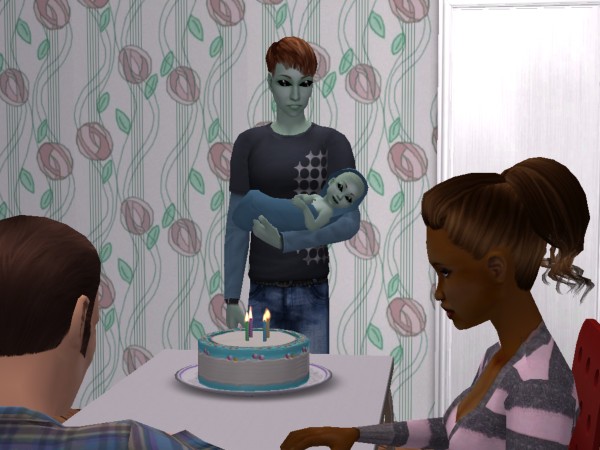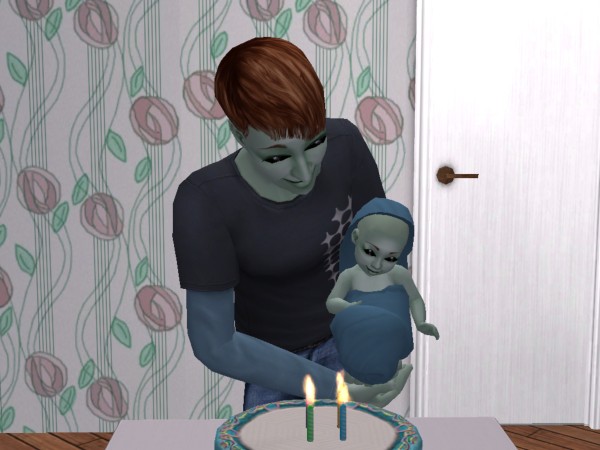 Time for Forrest's birthday!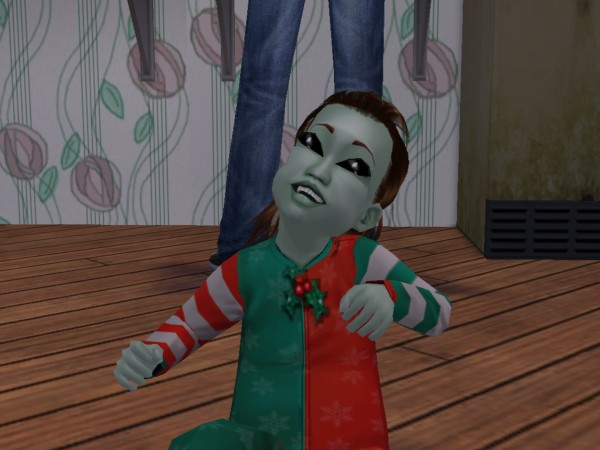 He's quite a cutie, and the hairstyle he grew up into suits him rather well. Forrest is a Scorpio (10/4/10/4/3), and his predestined hobby is Sports.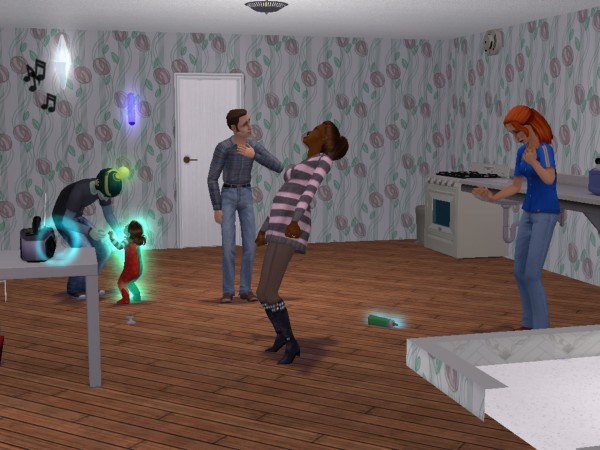 Not to be outdone, Linda goes into labor with baby number 2.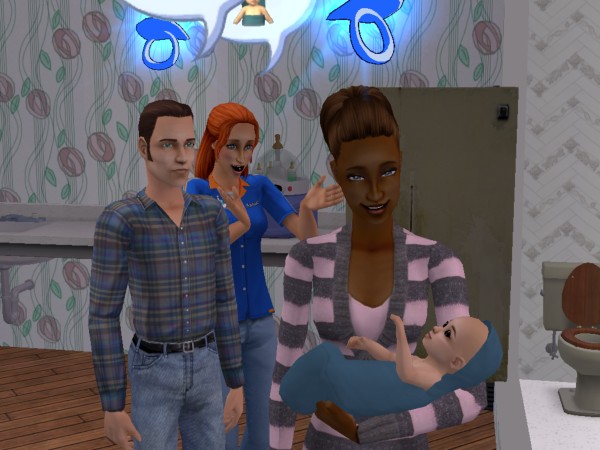 It's another boy! This little tyke is Raleigh.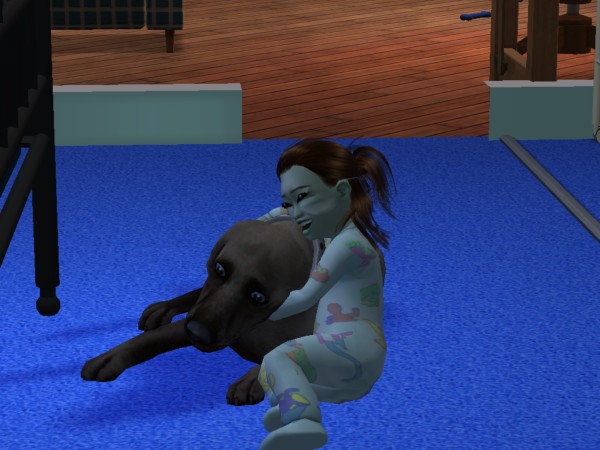 Doggie snuggles!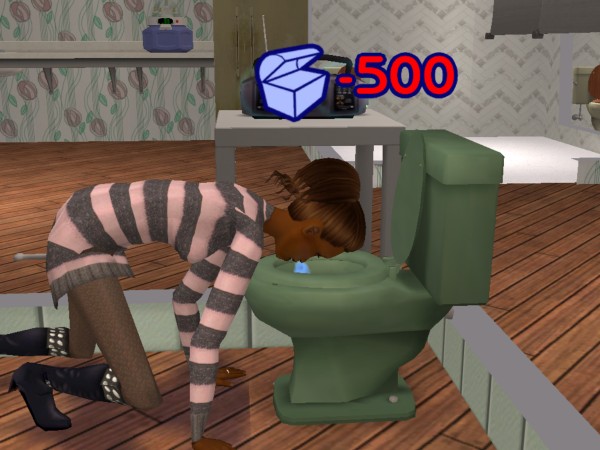 Pregnancy number 3 was pretty rough for Linda.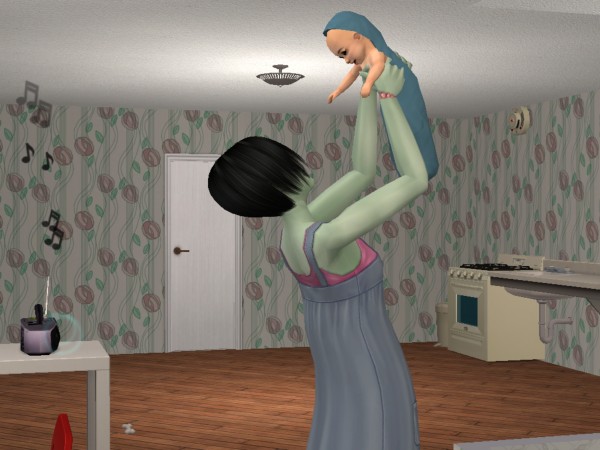 Lyra (in some new clothes that I bought for her) likes to invite herself in and "help" with the kids.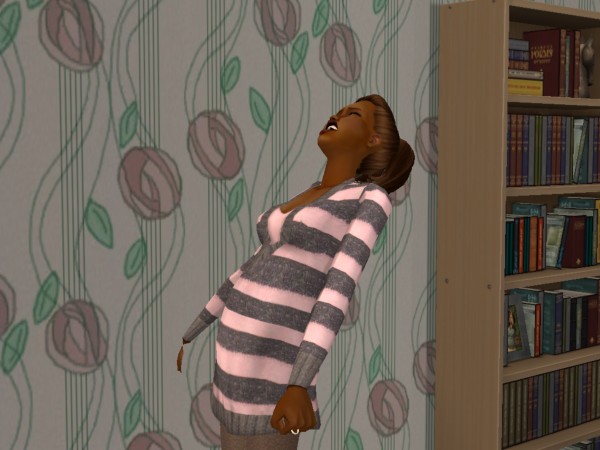 Baby number 3 is ready to arrive.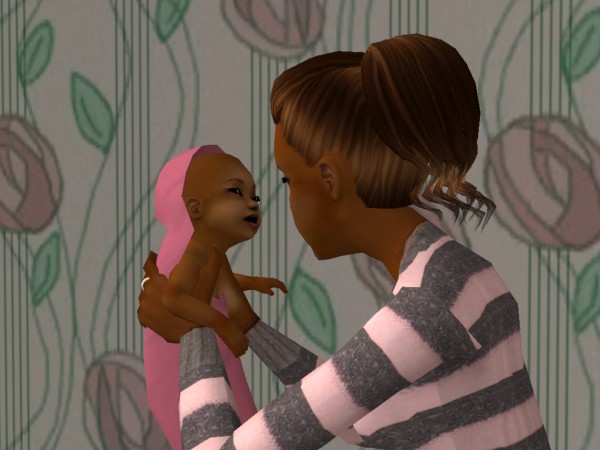 We have a girl! Welcome Loribelle to the family.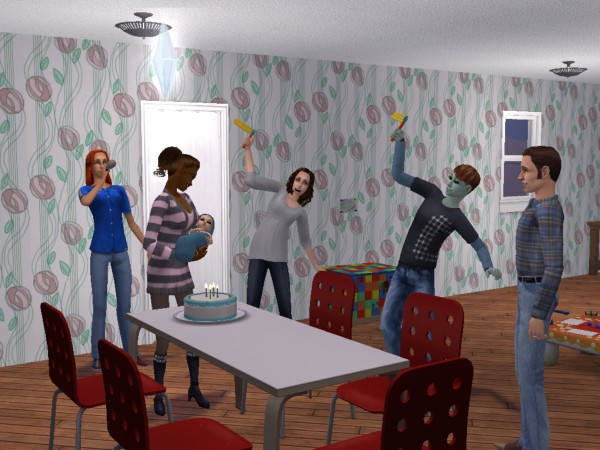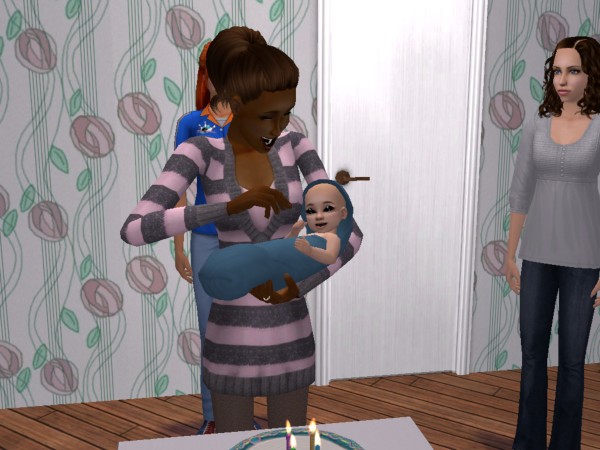 Time for Raleigh's birthday. As you see, Norma Jean decided to invite herself over.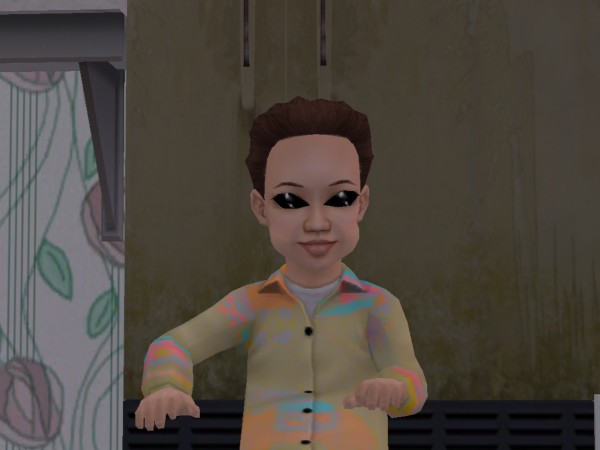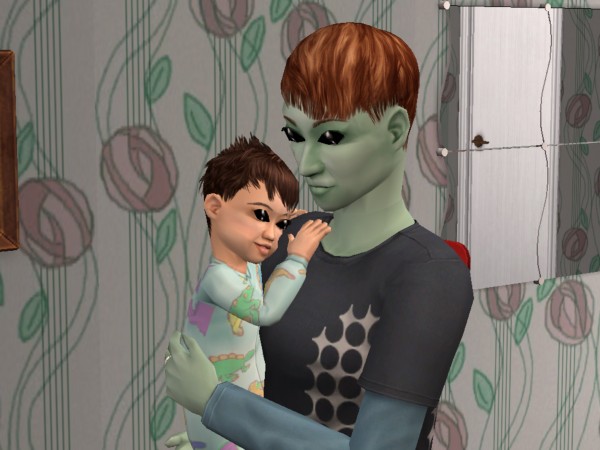 Before and after his makeover. That hair just did not suit him. Raleigh is also a Scorpio (10/3/10/10/1), and his predestined hobby is Games.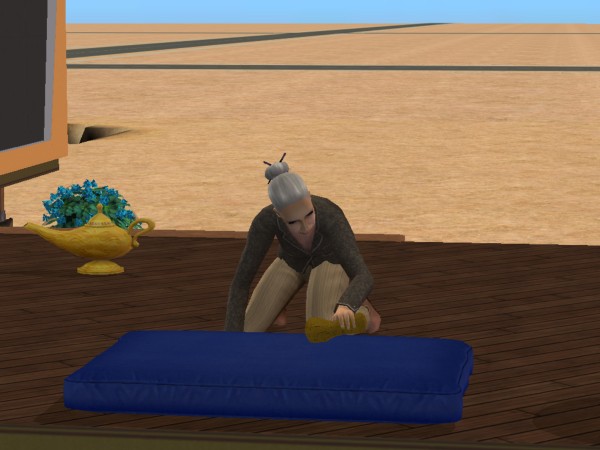 The yard sale was a huge success (nearly $5000!!!), but I was so busy running it that I didn't take any pictures except this one, when one of the customers decided to start cleaning the dog beds for me. If she'd bought some stuff, she would have been the perfect customer.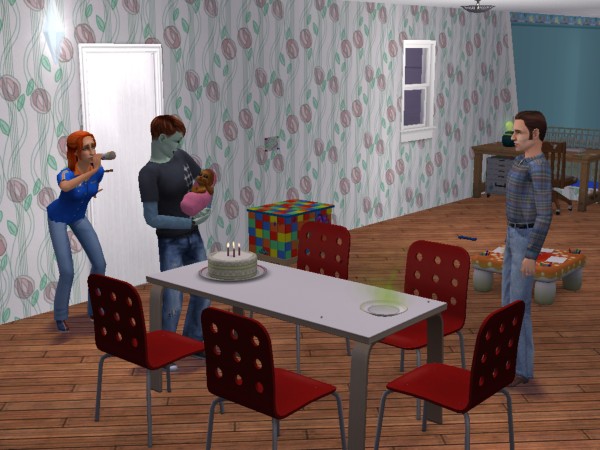 Time flies when you're having fun. Loribelle is ready to become a toddler.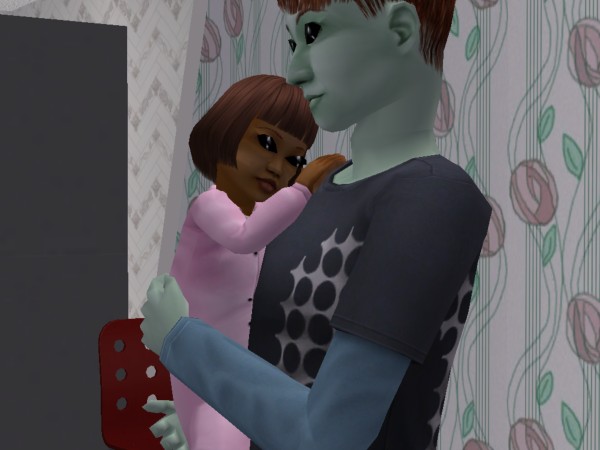 Loribelle is an Aries (10/9/4/4/5), and her predestined hobby is Science.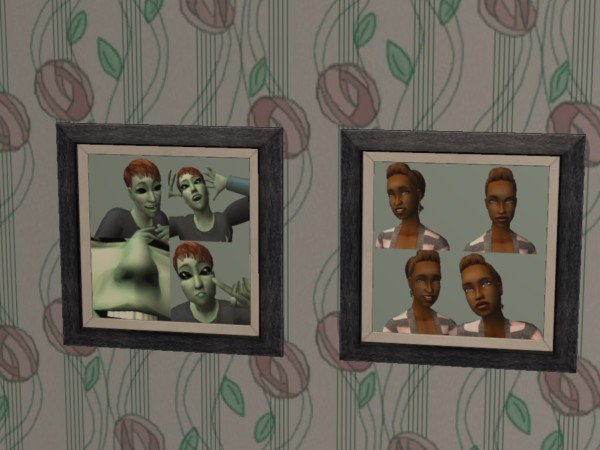 With some money in the bank, I sent Lepus and Linda to WalMart to get their heir pictures taken.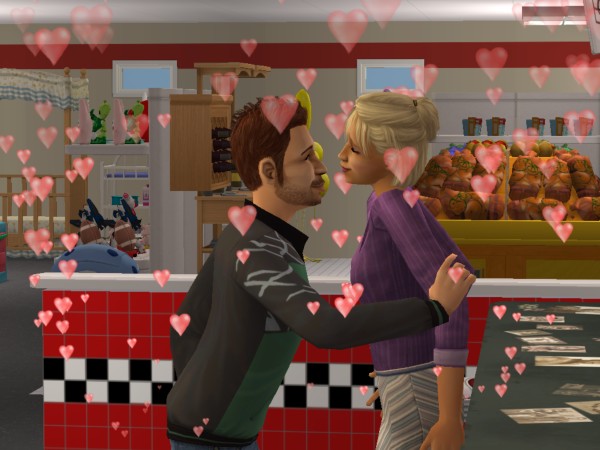 While there, I discovered that Junior's doing a bit better. As I left the lot, they were headed for the photobooth.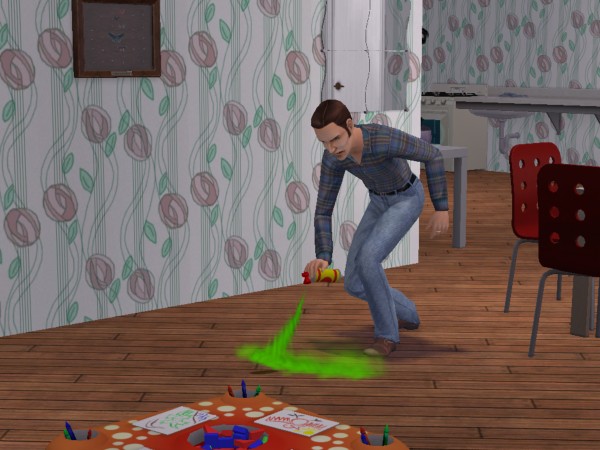 Roaches! Ew! Luckily, no one got sick from them.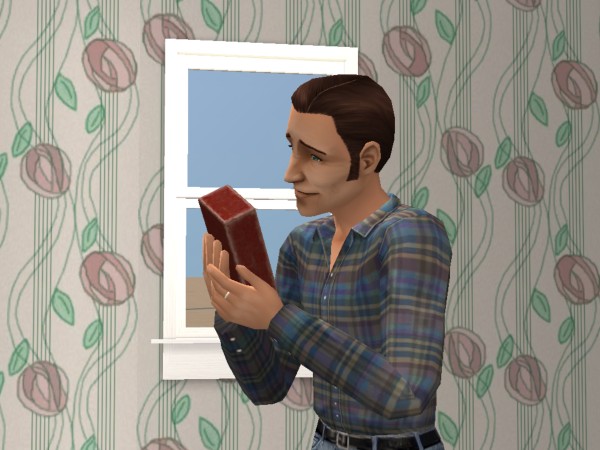 Though Matthew's not been quite right ever since.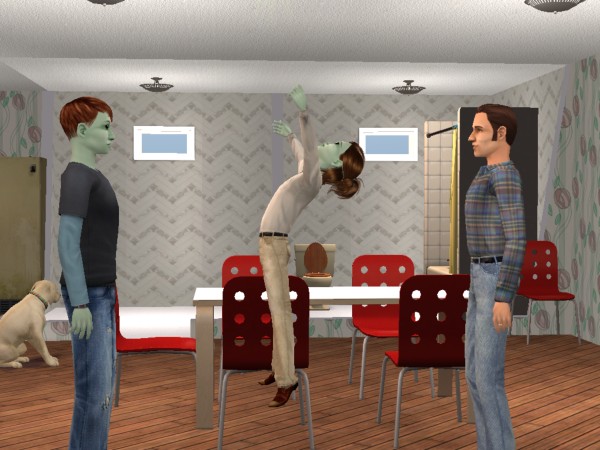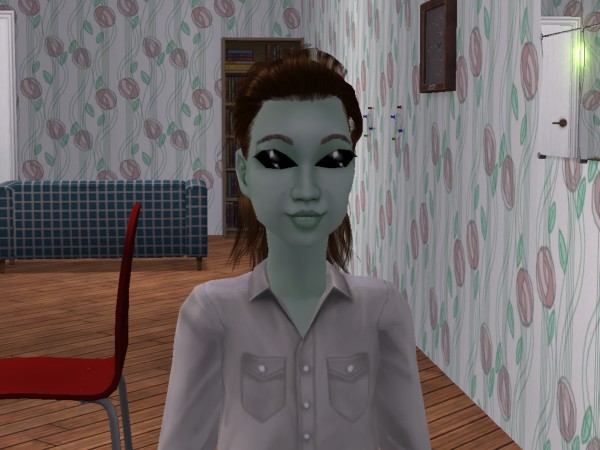 Forrest is now a kid. He's pretty cute.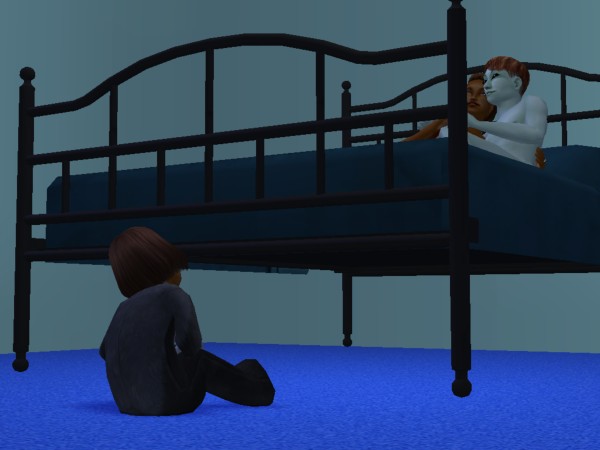 Linda and Lepus did their best to scar poor Loribelle with their activities (and for once, no lullaby).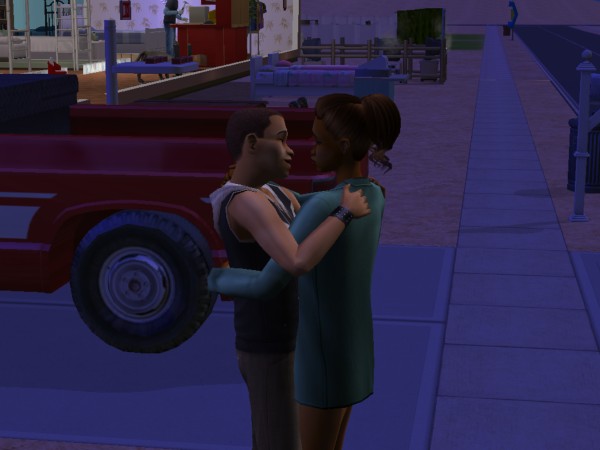 I decided that Linda not getting knocked up was a sign, and set her on this fellow, Sinjin Couderc (an AL sport townie). This was the start of a whole slew of events.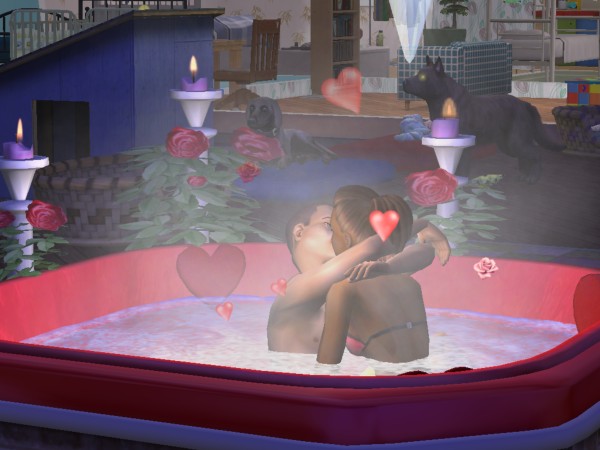 They hit the hot tub. And I *thought* I had enough time to send Lepus to bed so he wouldn't "know" about it.



I guess my timing was a little off. :/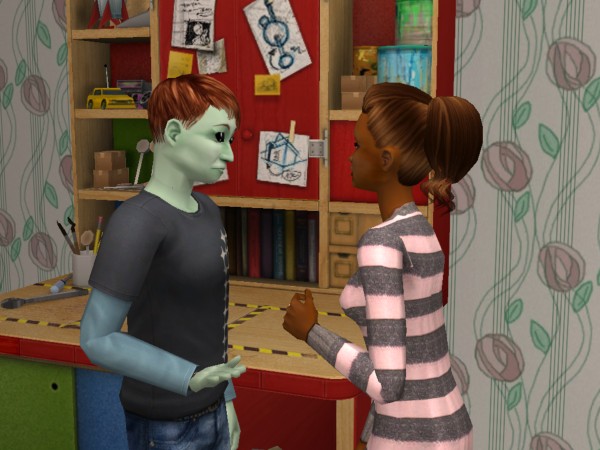 So Lepus was furious with Linda, and she was pregnant with another man's baby. She was apologizing to him all the time, not that it had much affect. Thank goodness they're both permaplat and I can energize the heck out of them, because they won't share a bed anymore.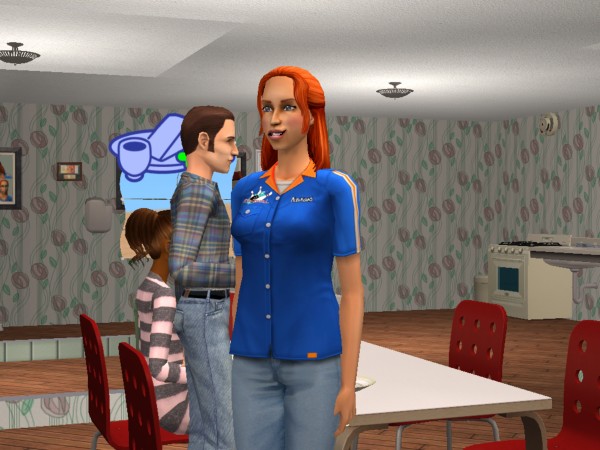 We interrupt this TPC drama with an important announcement: Jan got fat, as she insists on making and eating fresh fish dishes all the time.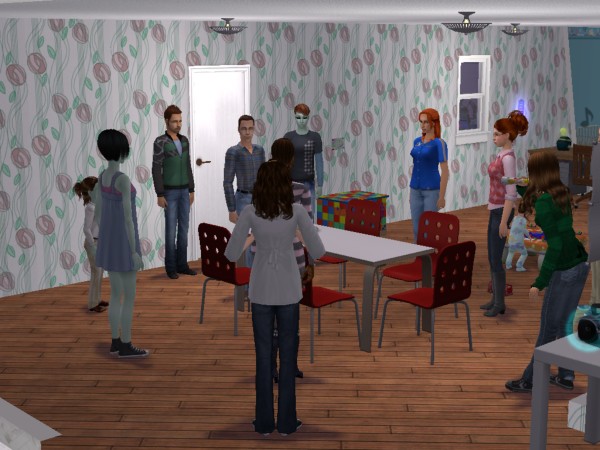 Matthew was due to get old, so I threw him a birthday party with all his kids (and Carson).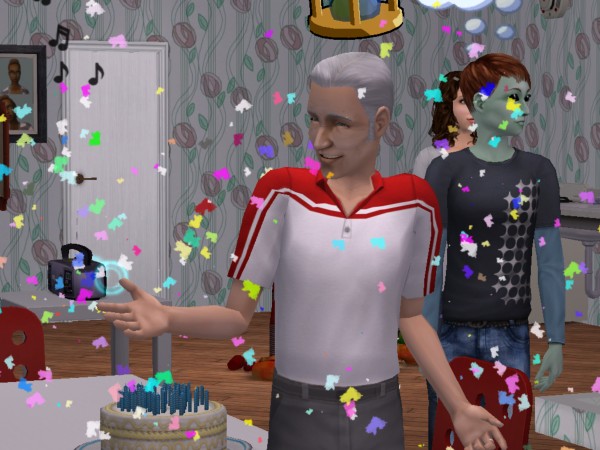 Matthew is still not a bad looking elder.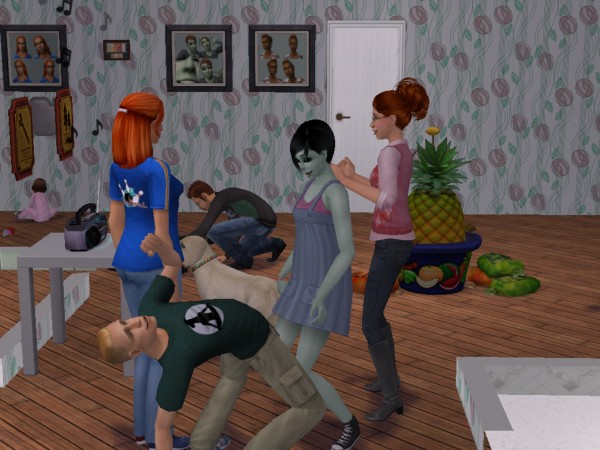 Everyone got their party on.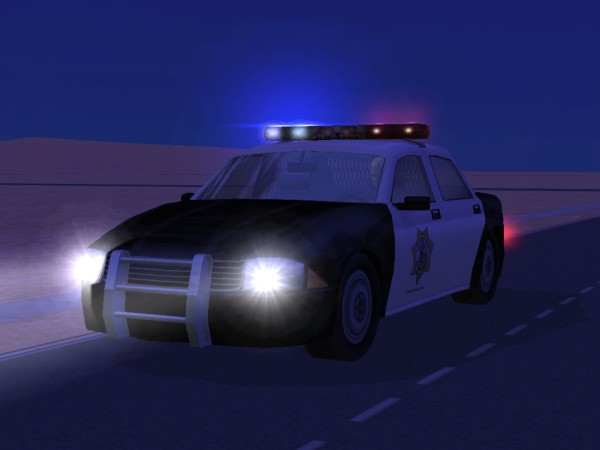 Until the cops showed up to break it up.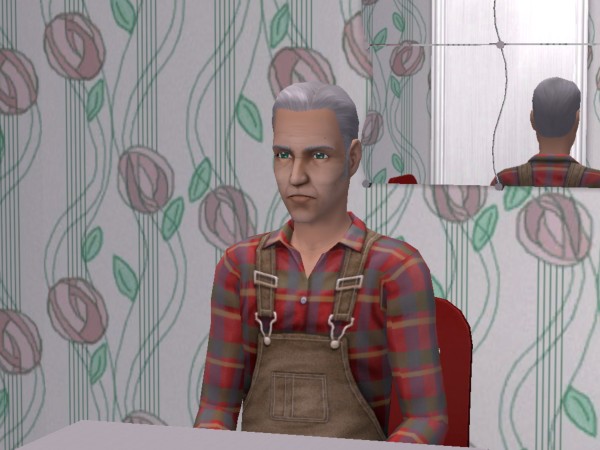 Matthew in his "proper" elder attire. I have his funeral outfit picked out too, which you'll see once that gets a little closer.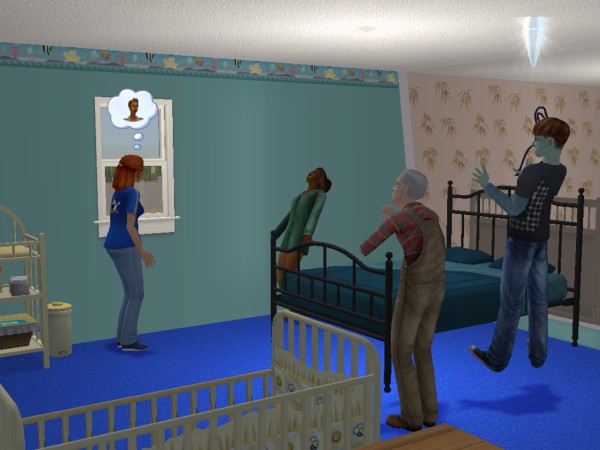 Time for Linda to deliver baby number 4.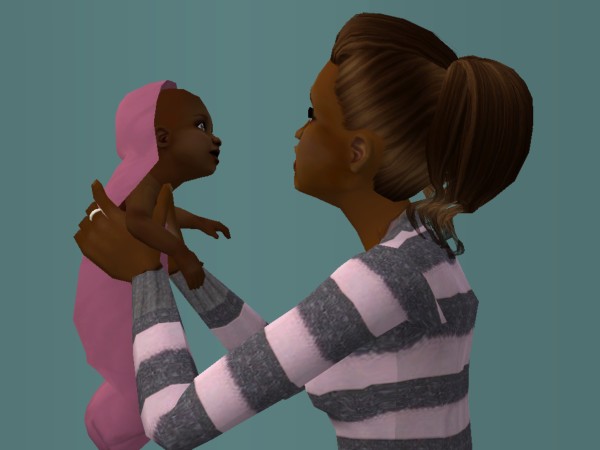 She has another girl, who is promptly named Annabelle.



This picture speaks volumes.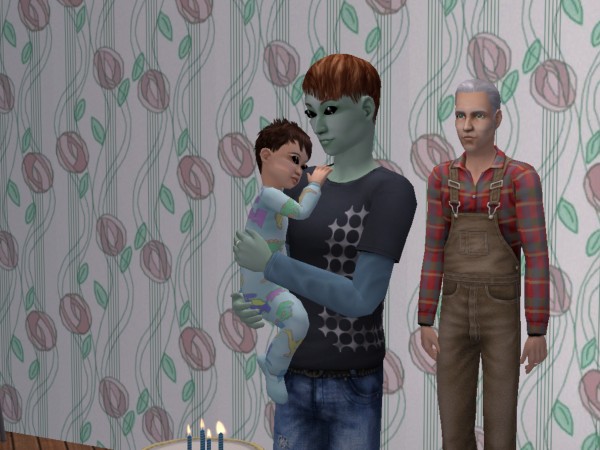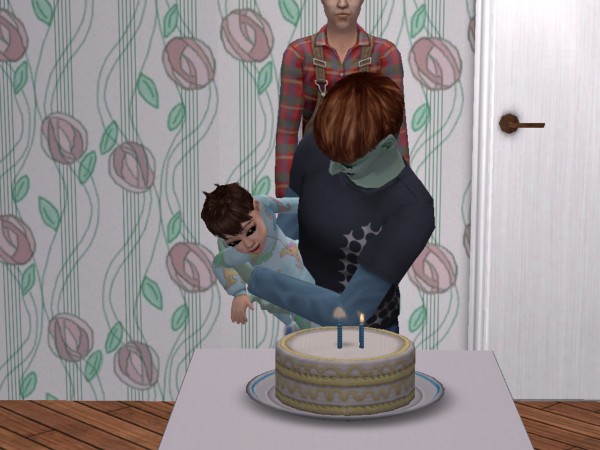 So, time for a double birthday: Raleigh and Jan.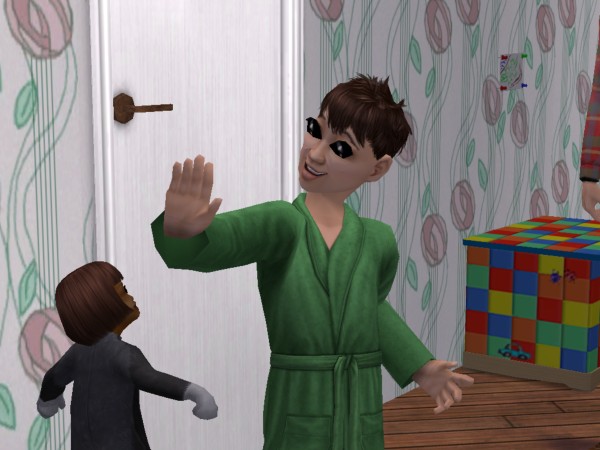 Aw! He's pretty cute.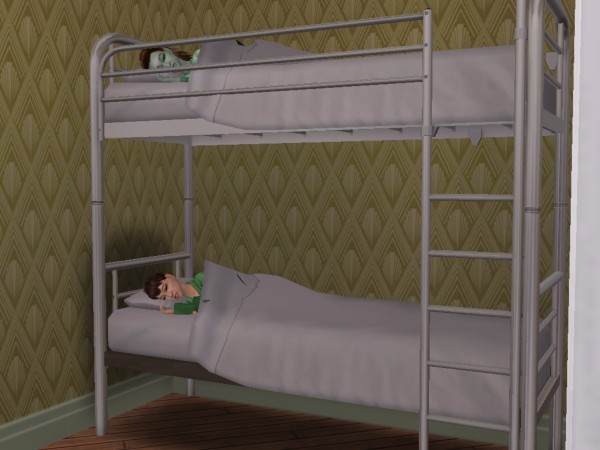 Bunk beds are a lifesaver in this challenge.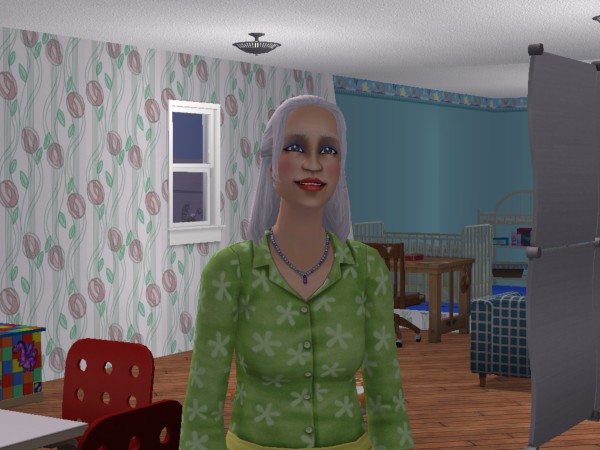 Here's Jan, pre and post makeover.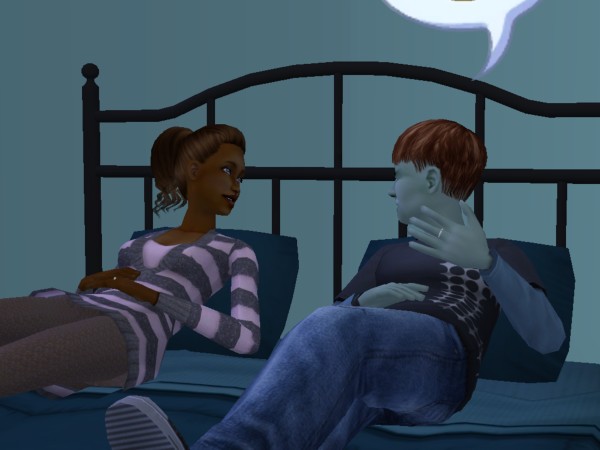 Linda and Lepus are at least talking now, which is a good thing.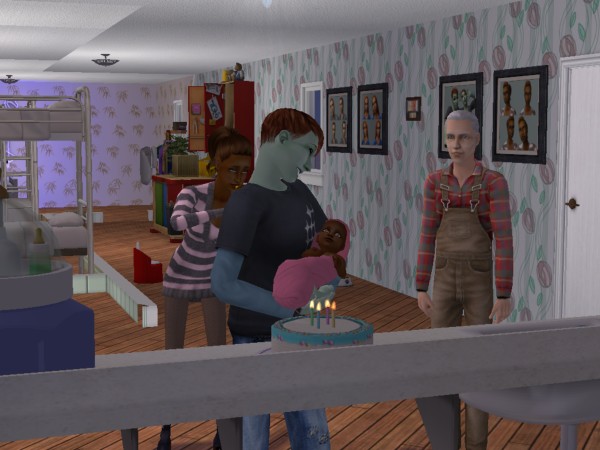 Time for Annabelle to become a tot.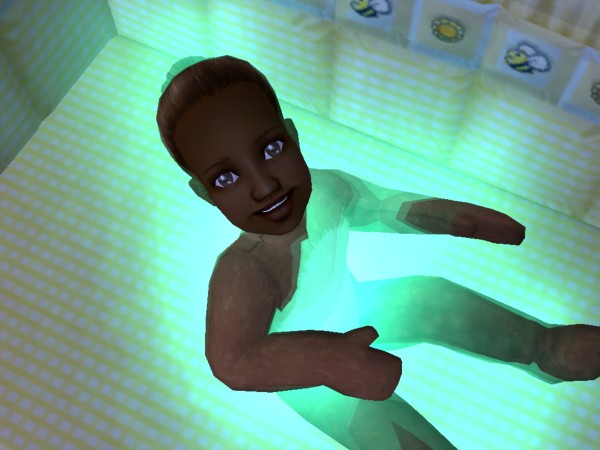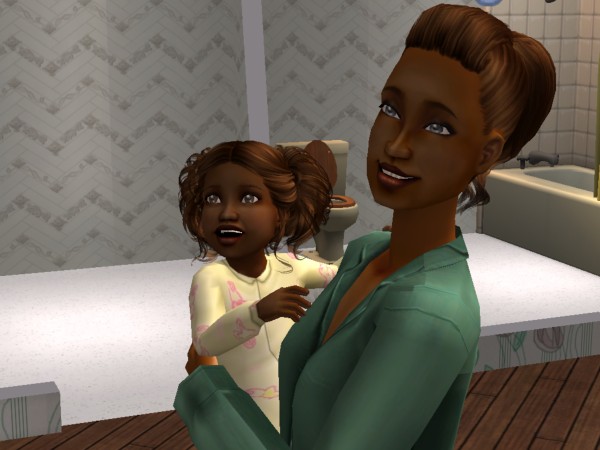 She's very pretty. Annabelle is an Aries (8/8/3/5/3), and her predestined hobby is Cuisine.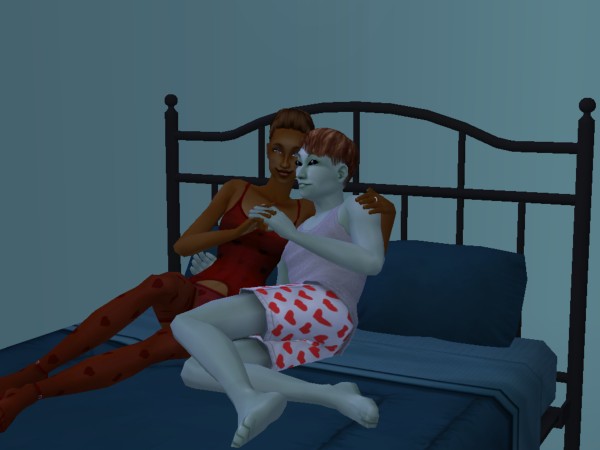 All(most) all is forgiven! Lepus wants another baby, and ACR obliged them. After this one, I'm putting Linda on birth control. I think 5 kids is more than enough for this round.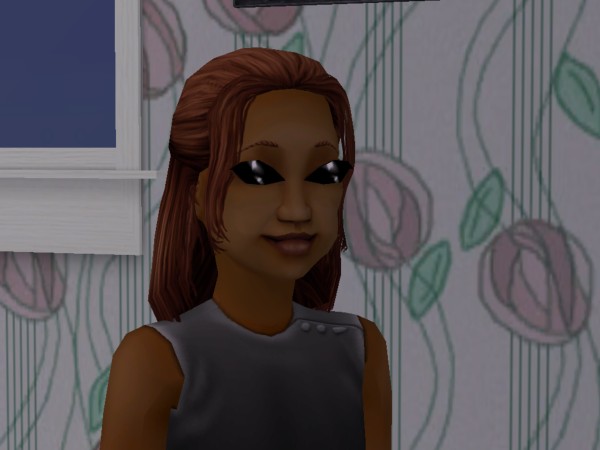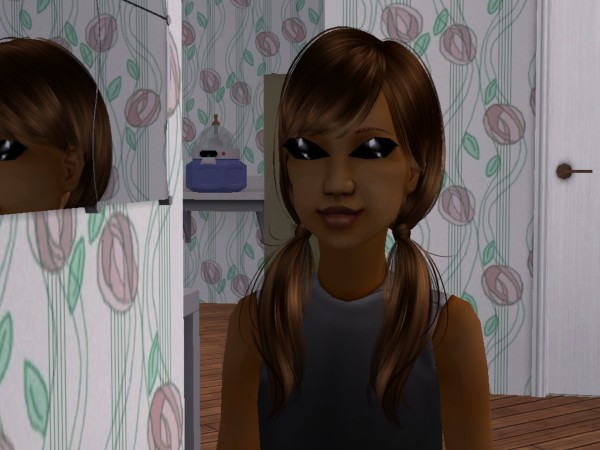 Loribelle became a kid.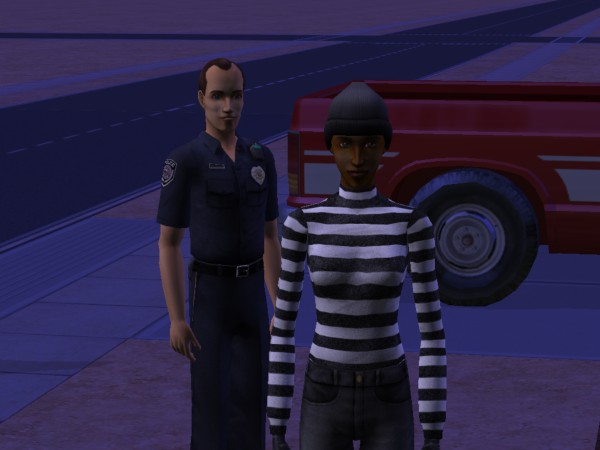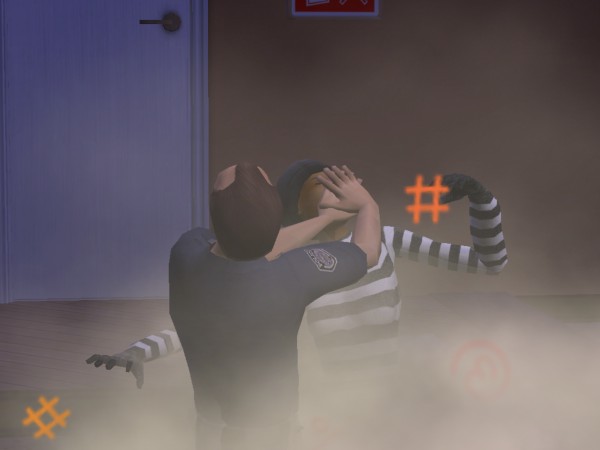 Burglar! Luckily, the truck alarm brought the police around, and the family got $500 the whole mess.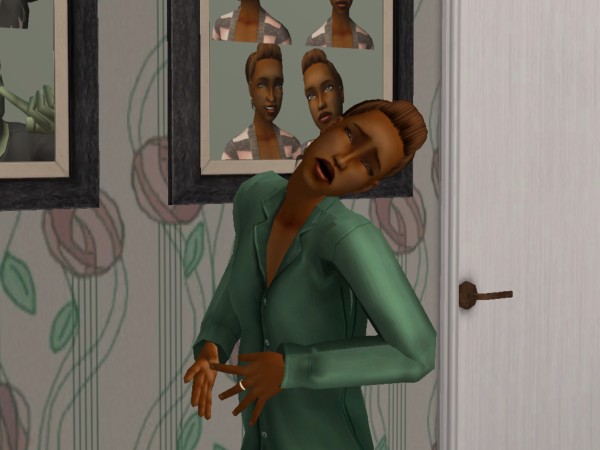 Time for number 5 to come into the world.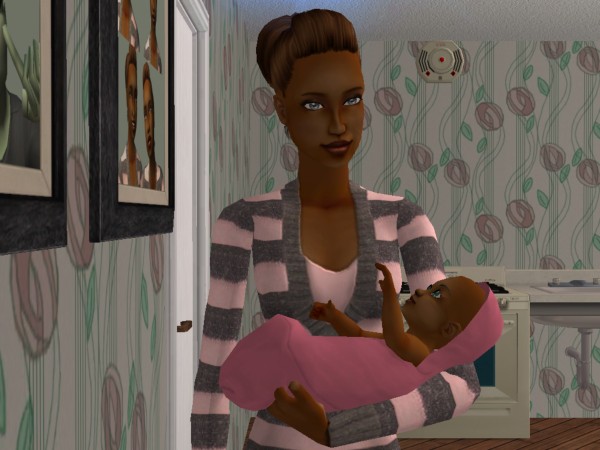 Baby number 5 is another girl, who was named Trixiebelle (getting a sense of a theme here for the girls?). She's got black hair (from dad via PT # Whatever) and green eyes (from Grandpa Matthew). I peeked at her stats in SimPE, and she's a Leo (5/10/3/9/1), and her predestined hobby is Games.

This is as good a place as any to leave you. Next update will (probably) include an heir pol